Every once in a while, an unknown, unconfirmed source informs reporters about specific events before they happen. This was the case when Jared Carrabis of Barstool Sports and a bunch of WEEI guys were informed of the Hanley Ramirez drug ring rumor this May. While none of the Boston Media guys will break these stories without a legitimate source, Carrabis likes to drop hints on his Podcasts: Section 10 and Starting 9. I noticed that on both Podcasts he mentioned Arenado to Boston with actual excitement. You can tell he believes in these rumors, and that's good enough for me. Much like Machado, adding Nolan Arenado would mix things up. The difference is that Arenado is not a rental, he is under contract through 2019.
Arenado would be a massive upgrade at third-base, hitting .307 (8th in NL), with 23 HRs (2nd in NL), 66 RBIs (4th in NL), .390 OBP (7th in NL), .583 SLG (3rd in NL), and a .974 OPS (3rd in NL). He is also a Five-Time Gold Glove Award Winner, and 2017 Platinum Glove Award Winner at only 27-years-old.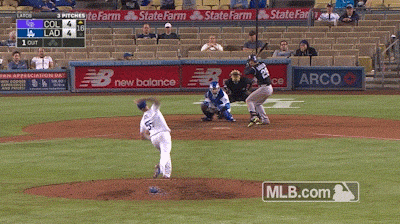 With Rafael Devers on the Disabled List with Shoulder Inflammation, the Red Sox are using utility infielders all around the diamond. Brock Holt, Eduardo Nunez, Tzu Wei-Lin, and Blake Swihart playing regularly between first-base occasionally, second-base regularly, and now third-base until Devers is healthy or a move is made. Arenado would sure up third-base with maybe the best corner infielder in baseball.
A trade of this caliber would not be easy to make. The Rockies are on the fringe of competing for a playoff spot and could go for it, or finally let Arenado go to real contender and get some national recognition. I think the Rockies would be foolish to make this move but if they did, they would get a lot in return. Top prospects Michael Chavis and Jay Groome are automatically in the deal in my eyes. With Devers off the trade market by being on the DL, Chavis would be sent to Colorado as the next Rockie to man the hot corner. The Red Sox have a weak farm system and would like to keep all pieces on the Red Sox roster as contenders, making this deal complicated. Maybe the Sox would give up a guy like Xander Bogaerts and move Arenado to shortstop. Nolan could certainly make the conversion with ease.
I would love to see Arenado in a Red Sox uniform but would not bank on it. This would be a massive blockbuster deal that I would likely get behind. It's hard to lose a trade when you receive one of the best players in the game, like the Chris Sale deal that just keeps looking better each day. The trade would complicate things if Devers or Bogey were not apart the trade, but that's something Alex Cora would have to sort through, and would be worth the risk of shaking up the roster to obtain one of the games best.
Scott Neville – Head Baseball Writer – WTF Sports