Hello to you all, here I welcome you to the Paramount 5 Series, by myself. I will make many top five lists in the future because, well who doesn't love them some countdowns and lists? But here, we clearly do things differently. We make them fun, interesting. Who uses the word paramount? Exactly. This is the greatest series of top fives you are going to see. They are going to be controversial, questionable, and most importantly, they are going to make you want to see more. So here we go, let us start with possibly the most important position in sports, the Quarterback position of the NFL.
5. Andrew Luck
One would think that having the name Luck as your last name would mean you would have exactly that. Well clearly someone didn't get the memo here, as Andrew Luck has had zero in the past three years plus. In his first three seasons as a pro, Luck did not miss a game. Everything was going right for him. In his third year he got dem Colts to the AFC Championship just to get obliterated by the Patriots. Now hey, he tried. The Colts really did, they tried to blame the air in a football on why they lost, except for the fact they did even worse in the second half when all the footballs were FINE. But hey, this isn't about that, this is about Andrew Luck and him not being able to play full seasons any longer. The 2015 season, Luck played a big time 7 games. In the 2016 season? Alright fine, he managed to play 15 games, but he hurt his shoulder and that has left him derailed forever. At least till this very moment because he hasn't played a single game in forever.
So how in the world did he make it on to my top five list without playing last year? Well if you didn't know, this is the Paramount 5. Without a shadow of a doubt, healthy Andrew is one of the best in all of football. Like get Big Ben out of here, don't even dare bring up Mr. Rivers, Newton ain't got nothing on the unlucky one over here, and everyone else will just make me legit laugh out loud. I do not care about injuries, I care about what he has done. And what Luck has done when he is 100% is something to recognize. In his three seasons of full health, Luck had luck on his side (and skill, a LOT of skill). He went 11-5 in all three seasons. Don't know if you knew this, but that is PRETTY good. He has got to be the favorite to win Comeback Player of the Year, and being honest, he could even win MVP if his shoulder doesn't fall off for the first time in three years this season. Fingers crossed! He gets 5.
4. Russell Wilson
The rest of these don't seem to be a question. So let us start with the most agile QB on the P5. Fun fact, Russell Wilson is 1-1 in Super Bowl's. Another fun fact, he was apart of the number one play in the history of the Super Bowl/football ranked by ESPN and NFL Network. And one last fun fact, you know the play.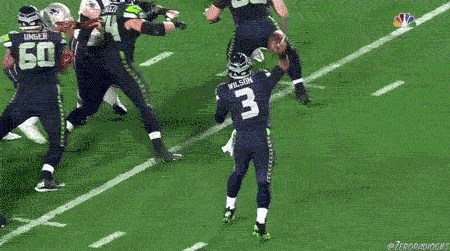 Alright, that is all I had for jokes. In all seriousness, Russell Wilson wins football games at a very good rate I'd say. He is also really good at throwing the football, running the football, and not getting hit by a bunch of huge men because his offensive line is made of left over parts from the mechanic next door. Wilson is an electric football player who gives his team a chance to win every single game. And now, he has to be the leader of that team on offense as the defense has lost everything in what it feels like .3 seconds. Sherman. GONE. Chancellor. GONE. Avril. GONE. Bennett. GONE. Now it is Wilson vs the world it feels, as the Rams have become the head of that division with the 49ers not too far behind. Wilson is simply among the best to do it in the NFL, which is why he ranks 4th on the Paramount 5 heading into the 2018-19 season.
3. Drew Brees
Mr. 5000 himself had it a bit easier last season when he didn't have to pass a million times a game to try and have a chance every single game. Drew Brees has become a staple in the NFL, you almost figure that he is going to throw for 5,000 plus every single season. Which he pretty much does until last season. Last season he got to watch Mark Ingram and Alvin Kamara run up and down the field while his defense was managing to stop nosebleeds on a consistent basis. For a while there, I was for sure this team was going to the Super Bowl. And who knows, if Stefon Diggs didn't shock the god forsaken world and bring it all the way with no time left, maybe they could have actually beat the Eagles and made it to that Super Bowl.
Regardless, this is about Brees and why he is ranked NUMBA tree. He has been a top five QB forever now, and Top 3 since Peyton Manning stunk it up and accidentally won a Super Bowl in the process. Being able to dominate makes everything fun, and Brees being a QB who doesn't have to throw 100 times makes him even more valuable in the long run. He is number three because clearly, I am not insane enough to have the top two QBs of the past five seasons to move any time soon. Speaking of move, let us move on to the big two. But hey, Brees got 3.
2. Aaron Rodgers
Football is not the same when Aaron Rodgers isn't throwing up hail mary's and throwing absolute missiles down the field that no one else can even dream of doing.
Example A:
Example B:
Rodgers just makes football so much better. Aaron Rodgers is the Green Bay Packers. You know it, I know it, we all know it. And unfortunately, his team hasn't vastly improved in a while on defense. However, his offense certainly has a new look this year. Adding on Jimmy Graham and subtracting his old pal Jordy Nelson (I told myself I wouldn't cry, one second) … means that Rodgers will have to find a new way to get the ball down the field without old reliable. Has Davante Adams become the new reliable one? Maybe. Time will certainly tell, but without a shadow of a doubt, the most talented QB when it comes to overall arm strength, athleticism, and all-around greatness was an automatic number two for me here. Number two because like, he ain't the GOAT. Hey, we can't all be the greatest, well, Tom can.
1. Tom Brady
GOAT. Greatest. Best Evahh. Tom Terrific. The Cream of the Crop.
Tom is the man plain and simple. How much do we have to go over that? He could easily be a seven-time Super Bowl champion. And no, I am not wrong. He put the team in the position to win against the Giants twice! He should be at six. He threw for over 500 yards against the Eagles in the Super Bowl last year and lost because the new head coach of the Detroit Lions and Mr. Bill didn't let Malcolm play and they could not stop Nick Foles. Brady, at the age of 40, the age most athletes are retired living their best life, won the Most Valuable Player award. And just when you think you have seen it all, he scared the life out of people all offseason because instead of showing up to his 47th OTA, Brady chilled and enjoyed being with his family. How could he not be number one? He has the world in the palm of his hand and can live the dream while also being the best QB on Earth when he shouldn't even be in the convo at that age. How could I know put Tommy Boy here? No please, tell me.
Is it because he goes to the Super Bowl too much? I get it, sometimes he is just crazy like that and loves to win. Do you consider him too beautiful to be number one? Because that is just straight up jealousy. Or maybe, just maybe because you didn't learn to the advice of a real, respectable man, Von Miller. And I quote:
"He's been great for a long time, and anybody that hates on him is just a hater, because there's nothing that you can hate on Tom Brady about. He's battled through injury. He's fought through adversity on the football field and off the football field. He's done everything the right way. He's playing as long as anybody can play. He's taken care of his body. And he's winning championships at the same time. So, if you're hating on him, you're just a hater, and shame on you." – Super Bowl Champion, LB Von Miller
I mean can I sum up the number one QB entering this season any better than Mr. Miller? Nope, didn't think so either.
So, there it is. The first ever edition of the new Paramount 5 Series, the Top 5 QBs heading into the 2018-19 Season. That was pretty fun, right? No? Alright cool.
So what do you think? Have any wacky changes that are incorrect/unvalid (of course I am kidding)? Or do you agree? Or even more important… are you a hater?
Well no matter what you may be, let me know!
– Scott Edwards, Creator of WTF Sports