The NFL Draft begins tonight, Thursday 4/26, live from AT&T Stadium in Dallas. This is the beginning of the journey for a load of college players who have played all their life to get here. And there has been about 100 Mock Drafts that you can look at on the internet that you probably get annoyed by, so instead why don't we just talk about the big names and where they're going. So, let us just do the most important position in the draft because it's getting late. The QBs. Let's get it:
(in order of where I think they will be chosen)
The Quarterbacks:
Oklahoma QB Baker Mayfield – Picked 1st Overall by the Cleveland Browns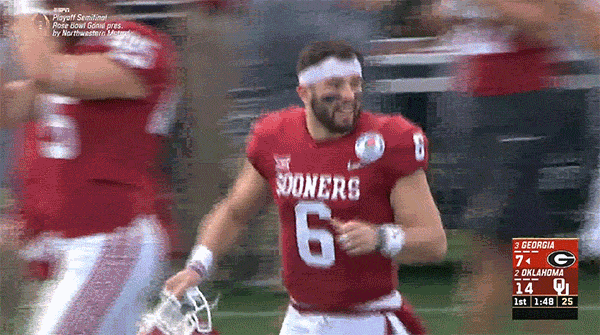 The most NFL ready QB and reigning Heisman Trophy Winner Baker Mayfield has seen his stock go from late in the draft to quite possibly first overall within just a few months. Mayfield has reached comparisons from Johnny Manziel to Drew Brees. As much as I love Johnny Football, this is two ends of the QB spectrum. Baker receives these comparisons due to his offseason antics that raise some concerns, while he receives the Brees comparisons because of the incredible accuracy he possesses. Reports all day have made me change this at the last minute, now flipping Mayfield and Darnold. Mayfield has become the QB everyone wants, and that is why he will be going first overall tonight on primetime. Mayfield never threw for more than 10 INT, including a 43-6 TD/INT ratio that helped win him the Heisman. The mobility, accuracy, and confidence have gotten Baker to this point, the point where he will now be dawning a Browns jersey and join a team with the weapons of the likes of former Pro Bowlers Josh Gordon and Jarvis Landry. The possibilities are endless with this new offense, welcome Baker to not only the NFL, but the opportunity to make the joke of the NFL a legitimate contender.
USC QB Sam Darnold – Picked 3rd Overall by the New York Jets
I had an entire write up for Darnold and why I do think he will be going number one overall to the Cleveland Browns. The guy has it all, with the potential to be great. More than likely the second most ready to start Day One in the NFL, Darnold will join the Empire State. With comparisons to Andrew Luck, Darnold really does have what it takes to be a Franchise QB. The arm, the mobility, and the smarts to deliver with. It is a real shame Darnold will now be a Jet as I did believe he had the chance to be so much better (lol). But hey, good for him. The former Trojan will now get to be known as the J-E-T-S future. Gang Green for Darnold tonight.
Wyoming QB Josh Allen – Picked 5th Overall by the Buffalo Bills (trade for Broncos pick)
The gigantic, powerful arm of Wyoming QB Josh Allen is what makes people turn heads. He may have the most question around him but has tons of potential if he can figure it all out. And Josh Allen, for some reason, sounds like the type of player who will end up in Buffalo. Buffalo finally moved on from Tyrod Taylor at the beginning of the offseason, getting to the point where they need a QB bad. The Bills are coming off a season where they made the playoffs for the first time in forever but want that QB who can make that stretch not happen again. They trade up here to get their (hopeful) franchise QB. He will have time behind AJ McCarron to develop as well.
UCLA QB Josh Rosen – Picked 12th by the Denver Broncos
After moving back in the draft with a trade with Buffalo, the Broncos are at a point where they cannot pass up Josh Rosen a second time. Rosen went from a consensus top three pick to now taking a free fall down the draft board. It feels like he and Mayfield have switched places, and lots of questions come to surface on if Rosen really wants to play. The concerns behind the big mouth Rosen are strictly the reason he continues to fall, not his skill. And you cannot tell me Case Keenum is the answer in Denver, but Rosen may be. GM John Elway may see a lot of similarities between himself and Rosen, and this is a pick that seem perfect for both. Elway will not pass up on him twice, securing that Rosen dawns a orange and blue jersey next season.
Louisville QB Lamar Jackson – Picked 23rd by the New England Patriots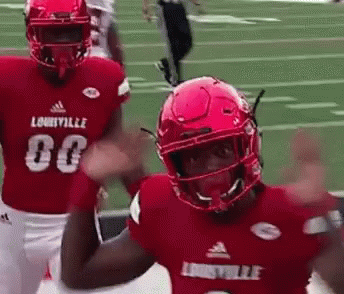 Just imagine that Bill Belichick follows Tom Brady with a QB with the athleticism that Lamar Jackson possesses. Sure, there is a chance Jackson goes to the Cardinals, but I can see them waiting on Rudolph or Lauletta later in the draft. And when I began to hear the noise that Jackson would be possibly on the Patriots radar, I chuckled. Yet, even more reports have come in that they have had multiple visits, including a private workout with him. Jackson brings 4.3 speed with an arm that can absolutely sling it. I have the Patriots picking him because, well, that would be fun and weird, and I love it. So hey, by nights end we may, just may, be welcoming former Louisville Cardinal and Heisman QB Lamar Jackson to New England baybeeeeeeeee.
Alright that's all, let's enjoy some Draft night.
– Scott Edwards, The Creator