We have finally made it to the best playoffs in sports, the Stanley Cup Playoffs.
And I know what you will say, the NFL Playoffs are better, the Super Bowl is so much bigger. Well, that is not comparable. When you compare sports that do not have the same format, it isn't really in the question. When it comes down to a seven-game series, there isn't a tenser atmosphere than the National Hockey League when they are in the trenches for the Cup. The emotions you experience as a fan when your team is in the Stanley Cup Playoffs cannot be matched by really anything. Excitement, anger, anxiety, nervousness, fear, and everything in between. And that doesn't even include when it goes into Overtime. When you get into OT, that is when you really want to hide yourself from even watching the game. That is what the Stanley Cup Playoffs gives you. Happiness or sadness in the end, there is no in between for your team in the end. And why do you ask? Simple. Because It's The Cup.
Lord Stanley's Cup is the best trophy in all of sports, and the saying "Because It's the Cup" means so much more to hockey fans than anything. And the matchups for these playoffs make this Stanley Cup Playoffs one of the best in years. Sure, this may be a slight bias because I think my Bruins can truly get to the promise land and raise that… I am not going to say it because I refuse to jinx it. Regardless, with all these interesting matchups, you can only be excited to see where the whole playoffs go to. Back to back years we have gotten the same result, now it seems there is a chance that certain team may not be the favorite. Don't believe me? Let's discuss these first round matchups:
WESTERN CONFERENCE
Central Division
Colorado Avalanche (2WC) @ Nashville Predators (1)
A playoff series where the reigning, defending Western Conference Champion takes on… the worst team in the entire NHL a season ago? The Colorado Avalanche have had a complete revival in terms of bouncing back and making this season mean something. Everyone doubted this team going into the season, as they moved on from Matt Duchene who at the time may have been considered their best player. And to understand how bad the Avs were just a season ago, they went 22-56-4, accounting for just 48 points which was by far the lowest of the league. This season, they finished 43-30-9, accumulating 95 points and gaining the Western Conference's last Wild Card slot. Who do you give credit of this turnaround to? Well of course coaching, but to discuss a player, it was C Nathan MacKinnon. MacKinnon, the 2013-2014 Calder Memorial Cup (best rookie) winner, was starting to be doubted in terms if he will ever become elite. The former first overall pick has always been good, but not until this season was he considered elite. MacKinnon played 74 games, scoring 39 goals and delivering 58 assists for a career high 97 points (5th in NHL). His play plus great coaching and full efforts from this hockey team have got the Avalanche back to the Stanley Cup Playoffs, but honestly, it will not be a long stay.
The Nashville Predators are started the season as the defending Western Conference Champions, after steam rolling through most of the competition, until ultimately losing to the back to back Stanley Cup Champions, the Pittsburgh Penguins. So, this season this team wanted to put together an even better effort, so much of a better effort that they have captured the Presidents' Trophy (most points in NHL). The Predators domination comes from overall, amazing team play that brings their top game every single game out. They may have the best defense in the entire league, led by Captain D Roman Josi and PK Subban, the continue to deliver mistake free hockey on a game to game basis. Oh, and they more than likely have the winner of this season's Vezina Trophy winner in Pekka Rinne, even though the goalies up in Winnipeg and down in Vegas may say differently. This season, Rinne finished with 42 wins (3rd), 2.31 GAA (4th among starters), .927 SV% (6th among starters), and 8 shut pieces (tied for 1st). Rinne is a huge reason this team went to the Stanley Cup last season, and this season he may be the reason they get back,
My prediction for this series is pretty easy, maybe the easiest. While the Avs will play tough, they will be outplayed.
Prediction: Predators win series 4-0
Minnesota Wild (3) @ Winnipeg Jets (2)
Quite possibly the best first round matchup in the entire playoffs, the Wild and Jets will have an absolutely amazing series. First of all, what needs to be recognized and praised here is that playoff hockey returns to Winnipeg for the first time since the Jets returned to the National Hockey League. And what both teams bring is absolute grit to the ice. They will use every movement to try and better themselves each game. This is not going to be a pretty series by any means, but it for sure will be a fun one. The Wild have been a team for a few years now where so many believed they could make that next huge step and get to a point where they could even win the Cup. Well, it is 2018 and they have not made that step. Sure, they are a good hockey team. Sure, they could very well win the whole shebang, but they won't. But they are going to put up a huge fight every single game. Being one of the more complete teams in hockey will help the Wild tons in this series and the playoffs, as they have one of the better four-line sets in the entire NHL, but I feel their age may hurt them against a young team like the Jets. That is where the concern comes… oh and the Jets are possibly one of the hungriest teams in these playoffs.
The Winnipeg Jets have had a season of dominance following a season where they just missed the playoffs. The Jets have a team where they will beat you up mentally and physically, and then take advantage. F Blake Wheeler was their best skater this entire season, and as the captain, that is all you can ask for. He had a career high in assists and points this season. Wheeler scored 23 goals, dishing out a league-high 68 assists (tie), and totaling 91 points (9th) for the Jets. That is such a good season, and it doesn't end there. This team brings speed and the ability to do what they want when they want to. Patrik Laine finished 2nd in the NHL in goals with 44, while their goalie and UMass Lowell's own Connor Hellebuyck has had easily his best season that may be enough to get him the Vezina Trophy as the league's best goalie. Hellebuyck finished with a league leading 44 wins (tie), a 2.36 GAA (5th among starters), .924 SV% (7th among starters), and 6 shutouts (3rd). A young, tough, complete hockey team that wants to do anything to bring their city a Stanley Cup that they deserve. You're damn right if you think this team will be a scary opponent.
My Prediction is actually easier than I expected, and that is because the ability of the Jets.
Prediction: Jets win series 4-2
Pacific Division
Los Angeles Kings (1WC) @ Vegas Golden Knights (1)
My favorite non-Bruins series may either be this one right here or a separate in the East. However, this is a series that brings a team that has experienced success in the playoffs, and a team who has been the story of the season in their actual first season. The Los Angeles Kings bring a team where they understand what it takes to get that Cup, with a captain and multiple others who have won a Cup with this team in recent years. And to really understand, Captain Anze Kopitar has had his best season yet. Kopitar is quite possibly one of the most underrated players in all of hockey, as he is one of two players in the past six seasons not named Patrice Bergeron to win the Selke Trophy. That is pretty legit. He is also a two-time Stanley Cup Champion. And now, he felt like adding more offense to his play, scoring a career high 35 goals, dishing a career high 57 assists, and putting together a 92-point (7th) season. Kopitar may or may not have put this offense on his back some games, and with his way of play, he may create many problems for Vegas top skater C William Karlsson. But to me, this game comes down to the two playoff tested goalies. The Kings Goalie? Jonathan Quick. Quick played a lot this season, which is more so the reason they have this chance. My boy Jonathan Quick has been fantastic forever, with everyone doubting if he could ever deliver again for this team after back-to-back injury plagued seasons. Instead, he played in 64 games, starting 63, going 33-28-3 with a 2.40 GAA and a .921 SV%. Sure, the wins and losses aren't everything you ask for, but the play was there all season. Now enter the playoff Quick, who has started and won two Stanley Cup's with the Kings. He could steal this series for the Kings.
The Vegas Golden Knights have been the underdog story of the entire league. In their first season, they have shattered every expansion team record ever for a first season. Doesn't matter on the sport. They, no matter the result, have been the best expansion team ever in season number one. The coaching of Gerard Gallant has been absolutely unbelievable this season, getting this team to not only the playoffs, but the top seed in the Pacific Division. The top line for this team has been remarkable, led by William Karlsson, have all finished in the top 10 for plus/minus in the NHL. Karlsson and Marchessault finished 1st and 2nd in the league, while Reilly Smith came in 8th. That is unbelievable. If you want the definition of a team with pure chemistry, you may not need to look any further than Vegas. And their best player has been the player everyone knew they'd take once this was announced, and that is the three-time Stanley Cup Champion goalie Marc-Andre Fleury. Fleury went 29-13-4 with a 2.24 GAA (2nd among starters) and .927 SV% (4th among starters). Fleury had a phenomenal season as a Golden Knight, and looks to bring the most playoff experience out of any player into the playoffs with him this season.
Fleury vs Quick is the matchup here folks, and while I have enjoyed the rise of the Golden Knights so much all season long, my predictions has their rode coming to a sudden end.
Prediction: Kings win series 4-3
San Jose Sharks (3) @ Anaheim Ducks (2)
The San Jose Sharks and Anaheim Ducks have almost become the definition of that really good team every season that cannot do enough to win the Stanley Cup. The Sharks have been that team for years, Joe Thornton would know. The Sharks were not the best this year, and the easiest way to see that is their best player, Brent Burns, had a -16 plus/minus this season. Not good. However, they managed to get to 100 points this season, because the veterans on their team continue to keep playing smart hockey. Joe Pavelski, Joe Thornton, Marc-Andre Vlasic, and Logan Couture all managed to have solid seasons for the Sharks, and this pairing may begin to finally fall apart after this season. But until then, they will try and get to the Cup one last time.
The Anaheim Ducks are right there with the Jets with being the hottest team in hockey. In their last 10 games, the Ducks have gone 8-1-1, which helped them lock down a playoff spot and even hope over the Sharks completely. The Ducks continue to be led by Ryan Getzlaf and Corey Perry, however Rickard Rakell has proved that he really is the real deal this season, following a great season with a season where he led the Ducks in scoring. The combined goaltending of John Gibson and Ryan Miller has been key for the Ducks all year long, and I feel this team may be able to continue riding this hot streak into a first round victory against the Sharks.
Prediction: Ducks win series 4-2
EASTERN CONFERENCE
Atlantic Division
New Jersey Devils (2WC) @ Tampa Bay Lightning (1)
Quite possibly the top favorite since the first month of the season, the Tampa Bay Lightning managed to stay in first place while the Devils managed to sneak into the playoffs. This matchup on paper seems very one-sided, but do not count out the Devils. You have to remember here, this is playoff hockey, anything can happen. This Devils team has been mostly led by one player, and that one player is Taylor Hall. Hall had his best year to date, including having the highest scoring streak in all of hockey this season at a ridiculous 26 games. Hall registered a 93-point season, which was 6th in the NHL. He did that with 39 goals (tied for 8th) and 54 assists. He was incredible and was the main force that got the Devils into the Playoffs. With shaky goaltending however, they are going to have a real tough time beating the Bolts.
The Tampa Bay Lightning are the closest thing to an NBA-like super team you are going to find this season. But this sure as hell is not the NBA, where a super team isn't going to automatically win. Yet, they are going to win this series and I have no doubt in my mind. The Lightning are led by Captain Steven Stamkos, Nikita Kucherov, and Victor Hedman. These three are hard to match for any team, especially with the idea that Stamkos scored 86 points, Kucherov scored 100 pts (3rd), and Hedman who is the favorite to win the Norris Trophy as the league's top defenseman. And the supporting cast of All-Star Brayden Point, JT Miller, Tyler Johnson, and Yanni Gourde, they are going to be a hard out in the playoffs. Where they could fall is because of their goalie. Andrei Vasilevskiy has struggled after having a Vezina trophy type season. Many say it is fatigue, so these days off may be exactly what he needs. No matter, the Lightning are taking this series, no doubt in my mind.
Prediction: Lightning win series 4-1
Toronto Maple Leafs (3) @ Boston Bruins (1)
#RivalrySZN. The Toronto Maple Leafs and the Boston Bruins are going to have the best series in all of the playoffs. And as a diehard Bruins fans, I love and hate that at the same time. The Maple Leafs are an extremely talented roster. Led by Auston Matthews, this Maple Leafs team is among the fastest in the entire league, maybe even the fastest. This team is young, hungry, and quick. With the coaching of Mike Babcock, this team is dangerous. They will not be disrespected, they will not use the excuse of "too young". Toronto wants a Cup, this team may be that good to get one.
BUUUUT, this Bruins team has that something special. Even when they are down, they are never out. So many games this season, the Bruins would be down and manage to win or at least get a point during that game. And having the best line in all of hockey is going to continue to be that damn good. Brad Marchand was the Bruins leading scorer with 85 points in 68 games and getting a 25 +/- in the process. He was paired with David Pastrnak and the heart and soul of the Boston Bruins, all-around center Patrice Bergeron. "Pasta" led the team in goals with a career-high 35, while Bergeron played in 64 games and accounted for 63 points and a 21 +/-. Bergeron will be taking home a Selke Trophy, but that is not enough for him this season. He wants another Cup. Zdeno wants another Cup. And do not get me wrong, there is so much more than just that line, this entire team is determined. They aren't too young, they are talented. This team has that special something that teams like the 2013 Red Sox and 2011 Bruins had. As I have been saying, believe in the Bruins
I am never not picking them.
Prediction: Bruins win series 4-2
Metropolitan Division
Columbus Blue Jackets (1WC) vs Washington Capitals (1)
This series involves two teams who very well could have been the top two in the division, but instead tough breaks lead to this fantastic first round matchup between Columbus and Washington. The Blue Jackets are one of those teams that has the pieces that could win the Cup, but the problem is that they are just so young. The Blue Jackets have one of the most dynamic offensive defensemen pairing in the league between Seth Jones and Zach Werenski. This combo has helped the Jackets become one of those special teams that have a young core who get it. They know what they have to do to get it done, unfortunately for them, they get a tough matchup with the Washington Capitals. But, two-time Vezina Trophy winner Sergei Bobrovsky has a chance to steal a series. Another dominant season for the Russian netminder, and he will be what decides the Blue Jackets fate in these playoffs.
When is Alex Ovechkin going to win a Stanley Cup? As a hockey fan, you really hope it does happen someday. You hope he gets that chance to raise the Cup above his head. He hasn't lost a step either, leading the league in goals yet again with 49 of them. Now he needs to completely show up in these playoffs, along with his team, and finally shut everyone up and get that Cup. Now what really is the big news going into this series is the fact that the Capitals have made a switch, announcing goalie Phillipp Grubauer will take over for former Vezina Trophy winner Braden Holtby for game one. This Washington team is just so good that it may not matter.
Caps are NOT choking round one everyone, BUT it will come damn close.
Prediction: Capitals win series 4-3
Philadelphia Flyers (3) @ Pittsburgh Penguins (2)
Rivalries are what we live for. The rivalry of Pennsylvania continues on in the Stanley Cup Playoffs between the Flyers and the BACK-TO-BACK, REIGNING, DEFENDING, UNDISPUTED Stanley Cup Champions, the Pittsburgh Penguins. They hit a different gear when it comes to the playoffs. I am making this quick and easy, it is going to be edgy, gritty, but the Penguins are winning this series. Sidney Crosby is not losing round one.
Prediction: Penguins win series 4-0
And there we have it, my first round playoff predictions. I cannot explain how excited I am for these playoffs, let's go get it.
Enjoy this, enjoy those playoffs and I will be back for news and round dos.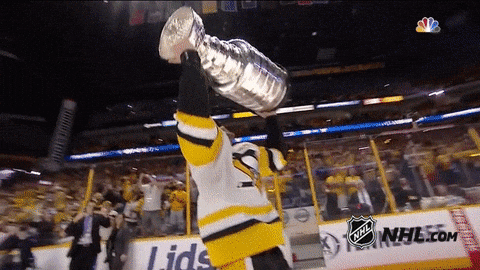 – Scott Edwards, The Creator of WTF Sports Nation