Last season, the 2017 Boston Red Sox team won the AL East Division for a second year in a row, marking the first time in team history that accomplished such a feat. Now they are faced with a bigger challenge, and it's not only three years in a row of being AL East Division Champion but making an actual run after being eliminated in the ALDS back to back years. This upcoming Red Sox team has a different feel going in. Maybe it's the changes they made, the team that returns, or the players who we welcome to the squad. Or maybe, just maybe, it's what the division rival, that I will not name yet, accomplished during the offseason that makes this Red Sox team more likely to be underdogs than anything else. But if it is the "Underdog" role they must take, it is one they must thrive in. And when you are under such a tight microscopic setting in Boston, you MUST turn all these moves into results. Plenty of players have already been through the ringer in the past couple seasons, some more than others. But with reports coming out from the offseason and early on in Spring Training, it all but seems that this Red Sox team is about to become a fully united front.
During the offseason, the Red Sox fired Manager John Ferrell and took on a former player of the organization as the new manager, Alex Cora. The biggest value to Cora is the relationships with the players, and if the coaches and players are able to connect and it isn't a tense setting in the Clubhouse, all will mesh so well. For seasons past, especially last season, there were reports of the behind the scenes of the Red Sox were not at all what you wanted to hear. Now, bring in Cora, who will be coming from the coaching staff of the 2017 World Series Champions Houston Astros. He will be a first-time manager, and at the young age of 42, he will have the ability to connect and get the best out of his player all season long. This, out of all the changes, was the greatest change. They were able to get the best Manager on the market, and many writers are overlooking that when discussing this Sox team. He has an opportunity to shut out that noise that the Red Sox don't have "a chance".
The Red Sox have a simple problem that they can change, which is inconsistency. This inconsistency has really taken over in the Boston media since the moment David Ortiz retired. Players like Hanley Ramirez and Xander Bogaerts have been some of the notable players showing this inconsistency. If it is because they don't care or just hit a part of the season where they slump, it is time to find a consistency for this lineup that doesn't lead to lineup changes, a problem with the rotation, and avoiding pitchers in the bullpen. While Cora cannot control all of this first hand, he can give these players a comfort level where they can bounce back, rather than continue to be down because of little support and the hammering of the Boston media. Now, with Cora comes an entire new cast of coaches. Cora's coaching staff includes Ron Roenicke, former Brewers Manager, becoming the bench coach, Tim Hyers as the new hitting coach, and Dana LeVangie as the official pitching coach. It is a completely new Coaching Staff that, at least through Spring Training, has shown that this team has some new improvements. And now finally, lets get on to the interesting part of this preview, which is a look at the roster itself.
February 26th, 2018. After a grueling offseason where no moves seemed to have taken place for the Red Sox outside of the resigning of Mitch Moreland and Eduardo Nunez, the Sox did all sorts of nothing. The fans became fed up, wondering if they were ever going to get that bat that could replace the gaping hole that the lineup had last season without David Ortiz. And on this date, they found it. JD Martinez is now with the Boston Red Sox and will be the designated hitter for the foreseeable future. And to understand what JD brings to the table is simple… .303 BA, 45 HR, 104 RBI, 1.066 OPS. All of that in just 119 games. And after a grueling offseason where many wondered if the Red Sox would be making any moves at all, they found the answer in an absolute stud of a hitter. He is for sure going to make this team a better team going forward, but you have to wonder how much he can change the actual culture of it. This team this offseason has become so much more likable, and while that has to do in part with Cora taking over the every day operations of the squad, it cannot go unnoticed by any means thanks to JD.
And now, let us take a look at the projected rotation starting today:
Chris Sale
David Price
Rick Porcello
Hector Velazquez
Brian Johnson
(Clearly missing two people)
In no means is this the rotation everyone expected coming into today's game, but with injuries to Drew Pomeranz and Eduardo Rodriguez, both Velazquez and Johnson should get at least one start each before the season is said and done. However, you still have Chris Sale, David Price, and Rick Porcello. Two aces at the front of your rotation, and the third guy won the Cy Young award so try and tell me he is awful. Meaning I cannot truly give a full outlook for this rotation as we truly do not know when Pomeranz or E-Rod will return, but we can take a look at the big three.
I actually want to start of with Rick Porcello, because, well, he had an awful season last year. It felt like he would start off well, then throw five meatballs down the heart of the plate and tried to see if someone would send it to the other side of the world. He gave up a league high 238 hits and a league high 38 friggin homers. I don't know if he was trying to give up more home runs than the Sox could hit last season, but he was pretty damn good at giving up the longball. Now I don't want to come off here like I hate Rick Porcello, because I certainly do not… BUT, he has to fix this problem and get closer to his Cy Young form that came out of nowhere two seasons ago. Last season he went 11-17, while the Cy Young season the year before he went 22-4. Hey, I know there is no chance we get 22 again, but what about like 14-10? I think that would be a solid year out of Pretty Ricky over here. Also, let's stop inflating that ERA, okay? 3.15 to 4.65 is not a good trend. And now you are 29, how bout you buckle on down and be decent even. I believe in you pretty Ricky, so get it together and deliver.
Next up? Ace Chris Sale. Last season, Sale finished in second in the AL Cy Young race because John Ferrell thought it was needed for Sale to throw 120 pitches in games as early as April. He simply began to burn out because his arm was used more than Ferrell's brain. But no fear, Chris Sale is coming back with a vengeance this season. Sale went 17-8 last season with a 2.90 ERA and a league leading 308 SO. Yep, that is pretty… pretty good. So good that I think he will be even better this season. Sure, I expect those strikeouts to decrease just a little bit, but Chris Sale may murder me if I say that. Sale goes 110% every damn pitch he makes, and that is just proven. I feel Sale's season can be a real sign starting today, because he gets a somewhat talented team in the Rays who have moved on from certain guys, but still have players who can hit and play good baseball. And the management of Chris Sale as a whole will be such a huge story all season. They need him fresh come playoffs. Understand that. However, I firmly believe Chris Sale as the worst, will have a top three finish in the Cy Young race, and maybe even a win.
And finally, David Price. If you read my Difference Makers piece, you very well know my thoughts on David Price this upcoming season. Simply put, David Price is going to ball out this season. This is his season with Boston. He is going to shut down everyone and dominate this season. However, the scary result here is, how his elbow does this season. His "self-healing" elbow was a real problem last season which is why it felt like we barely saw David Price. But now, with zero complications, it is officially his time to shine. I would write so much more about Price but you can make it easier and just go read my Difference Makers piece under the MLB tab or even on the front page. It is that easy. But I will discuss how much I love David Price and will be announcing for those who do not know, WTF Sports Nation is a David Price Loving Nation. We are David Price guys/gals. And if you have a problem with that… please share your frustrations with someone else! Because if you don't like him, you're wrong. Anyways, on to the lineup.
The official lineup has been announced for Opening Day and is as follows: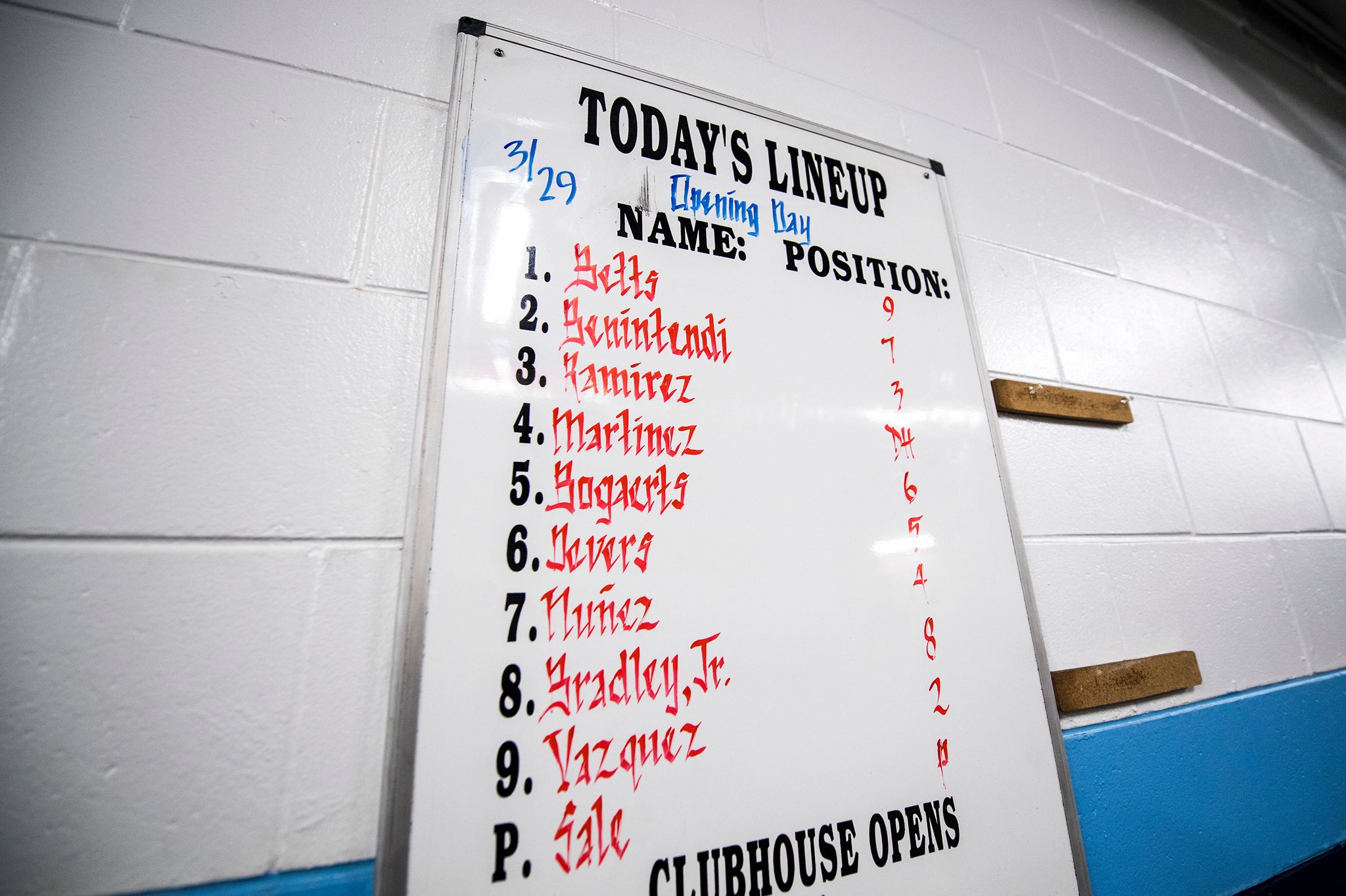 All this lineup is pretty simple, expected even. So let's dive in with some projections for each.
Mookie Betts, RF
My Projected Stats: .298, 28 HR, 85 RBI, 30 SB, Gold Glove
Mookie Betts said last season that his 2016 season was the best Mookie we will ever get. And while that can quite possibly be true since it was just such an amazing season, I think Mookie returns to his old ways this season while he is leading off. His statistics last season weren't in any way bad, they just weren't Mookie standards. Betts batted .264, hitting 24 home runs and knocking in 102 runs and swiping 26 bases. While this by no means defines how good Mookie truly is, he still finished 6th in MVP voting for the American League. This season I expect Mookie's batting average to spike back to it's usual while he also hits more homeruns. But, I do have his RBI's taking a bit of a hit because I think Cora plans to leave him at the leadoff spot all season long. And finally, Cora projected that this team will be running, and I think Mookie makes a new career high for stolen bases this season with 30. And of course, he is taking home the Gold Glove because no one is better than him on the field. Betts is the Red Sox best all-around player, and with his 20/20 ability and maybe even 30/30 ability, Mookie will have a huge season ahead.
Andrew Benintendi, LF
My Projected Stats: .286, 35 HR, 120 RBI, 15 SB
Projections sometimes need to be inflated to truly get the point across. But I really do not care. Andrew Benintendi put on tons of muscle this season and was smacking the laces off the ball in Spring Training, hitting homeruns that Barry Bonds would be jealous of. So this season, a year after a second place finish in the AL Rookie of the Year in which he batted .271 with 20 dingers and 90 RBIs, even 20 SB, I believe Benny Biceps makes yet another huge step. Such a step that he is going to be the MVP for the Red Sox this season. He isn't necessarily going to be the .300 guy by any means, but he will be pretty close I feel. And I think this young stud will go from stud to star real quick. While it is fair to believe that 35 is a bit inflated, I feel it is truly possible. Benny has to be even more than he was last year, and I feel with a coach who is confident in his abilities, the sky is the limit for this kid.
Hanley Ramirez, 1B
My Projected Stats: .274, 25 HR, 87 RBI
First things first, I do not think Hanley remains in the three hole all season long. I think he could get pushed back to five with Benny moving down to three and Peedy returning to his usually 2 spot. I do feel that Hanley is a very important piece to his puzzle, and I think he will manage to keep Mitch Moreland off the field a lot as long as he stays healthy. Hanley in his one season of 1B delivered easily his best season as a Boston Red Sox player. I feel the first season and third season were chances that allowed him to be lazy, which is 100% his problem. When Hanley isn't lazy or hurt, he is a good ball player. This is a key season for him, and I think a bounce back does occur. Hanley is a key cog in the Red Sox lineup if they want to go anywhere this season.
JD Martinez, DH
My Projected Stats: .301, 38 HR, 110 RBI
JD Martinez is the hot commodity coming into the season by people predicting the Red Sox season. And while I think he will have an amazing season, I do see some worry early on. He must figure out how to not play field every day and just hit. Sure, sounds easy but when you have played in the field for more than likely your whole career, you probably need to figure out the feel. But let me also be clear, Martinez will be fine. He will be so fine that he will lead the club in ding dongs. If I am being truly honest, he is the one player besides Mookie on the offensive side of the ball that I am least worried about. So that means I'm done talking about him, Ding Dongs will be had.
Xander Bogaerts, SS
My Projected Stats: .319, 8 HR, 60 RBI, 16 SB
Xander Bogaerts will NOT have his midseason to end of season shitty slump that has haunted him the past two seasons. Xander Bogaerts will lead the Boston Red Sox in batting average. Yep, there, I said it. This Red Sox lineup is going to be really good this season and I have zero doubts about it. I think Bogaerts will finally have a good season again, and I cannot wait for that. I think it is best for him to just focus on hitting and do not even worry about hitting home runs. Just stay natural and hit, be the All-Star we all know you can be Xander.
Rafael Devers, 3B
My Projected Stats: .282, 25 HR, 72 RBI
The rookie who gave so many hope at the position that the Red sox have struggled at. Rafael Devers is going to have a season where he will be doubted many times, questioned many times, and praised many times. It is just the usual when you are such a young player. And I know a lot of people are saying he has 30+ HR possibilities, but he is just so young that I think a solid 25 is acceptable. Devers is going to have a very good full season for the Sox, with some growing woes added in. He is low in the lineup but will still have the ability to knock in runs with Bogey and JD in front of him. Devers doesn't need to prove anything this year, he just needs to remain solid. Baby Raffy has got this covered.
Eduardo Nunez / Dustin Pedroia
Nunez Projected Stats: .268, 10 HR, 42 RBI, 17 SB
Pedroia Projected Stats: .294, 3 HR, 37 RBI
I have concern over both players. Reason being, they both have health issues. I don't really know if Nunez knee can hold up a full season, and I feel it may affect him. But, his main purpose for this team is to be a guy who can fill it for the Sox when they need him. And with Pedroia, I feel he just may never have complete health. But I do feel when he does play, he will play well. The Sox need this 2B position to be complimentary, and I feel these two will manage to do so for the Sox. Not much to talk about here, Peedy is hurt and Nunez needs to prove the knee is nothing.
Jackie Bradley Jr, CF
My Projected Stats: .267, 15 HR, 74 RBI, 15 SB, Gold Glove
Jackie Bradley Jr is actually a former All-Star. Bet you didn't know that. His bat continues to struggle and there were lots of reports of trade talks involving JBJ. Well, don't worry, JBJ is going to be fine this year. He doesn't need to hit the life out of the ball, but he also cannot be a liability. I believe JBJ will have a solid offensive season and finally take home a damn Gold Glove because he deserves it.
Christian Vazquez, C
My Projected Stats: .270, 4 HR, 38 RBI
The all defensive catcher put together a good offensive season for himself last season. I feel this will be his job all season and I want to get rid of the Sandy Leon noise now, but welcome the Blake Swihart noise. Hope that both of these players can help produce for the Sox. Vazquez will continue to be a top defensive catcher for this team
Bullpen Predictions:
Craig Kimbrel – 2.13 ERA, lots of SO, 40 SV
Hope Joe Kelly does well.
Alright so I have finally finished my Boston Red Sox preview for Game one of the 162 games season. I will have quarterly reports on the Red Sox as the season goes on, and cannot wait to see how this team does. I would say this was a pretty positive preview and I am incredibly excited for baseball.
Let's get it Red Sox Nation.
Listen to Around the Diamond every Tuesday on iTunes
– Scott Edwards, The Creator of WTF Sports Nation