February 7th, 2017, the Boston Bruins finally went a new direction and fired Head Coach Claude Julien. In stepped then interim, now Head Coach Bruce Cassidy. And in the 77 games coached with the Bruins, Cassidy has helped get his team to a 49-19-9 record. That is 107 points in not even a full season. The Boston Bruins have, in a short amount of time, went from a team that people didn't expect much from to a serious contender for the Stanley Cup when playoffs come around. This team has begun to gel together so well and quite possibly has the most chemistry in hockey, a story overlooked by the Patriots success and other team's success in the NHL. Well, I have come here to inform you that you need to stop overlooking the Boston Bruins, because they are now the team you must shift your faith and beliefs in while you get over the Patriots' devastating loss. Why? Because it is exactly what I am doing, so should the wagon when its hot.
Yes, I have been paying attention to the Bruins while football season has gone on, but that is because I'm a die-hard Boston sports fan and a hockey fan, but I will even admit that I have overlooked some of their success. It feels as though the Patriots, Celtics, and Red Sox have continued to take the headlines due to either playoff success, an undeniable winning streak, or a terrible offseason filled with no signings. And while this has continued on, the Boston Bruins have continued to roll on as an underdog and the cream rising to the top of the crop. They have embodied the spirit of Boston in all of their games, never giving up and playing to the final horn. So, now it is time for us to give them our appreciation and get ready for the last half of the season, with 32 games remaining, nothing is promised, but they have that something special this season. What is that something special? I don't know exactly but let us look at why they are so good.
As the standings stand right now, the Bruins have the second-best record in the Atlantic Division and in all of the Eastern Conference at 31-11-8 and have three games in hand on the league-leading Tampa Bay Lightning. And with games tonight and tomorrow, they could be within one point of the league lead as they take on the Detroit Red Wings and New York Rangers, both teams underperforming this season. The play of the Bruins this season is remarkable and gets me excited for a potential deep run into the Stanley Cup Playoffs. But you ask, why do you think they can get there? Simple, what this team is made up of:
The first line of the Bruins quite possibly has become the best line in all of hockey. Led by the heart and soul of what the Bruins are, Patrice Bergeron, and two of the most dynamic wingers in all of hockey in 2018 All-Star Brad Marchand and young stud David Pastrnak. These three players lead the Bruins in points, with Marchand having 50 in just 38 games, Pasta having 49 in 50 games, and Bergeron having 44 in 45 games. It has been just a dominant season for this line, and this team is simply at best when they are all playing. They are the heartbeat of this hockey team.
But after them, it becomes a matter of who for fans. The 4th leading scorer on the Bruins is rookie winger Danton Heinen. And he really is a who when you don't follow the Bruins day after day. Heinen has become one of the players to really step up this season, having 11 goals and 24 assists while being on the 3rd line all season long. Bruins have had to have almost everyone after the top line to step up, and players like Jake Debrusk, Ryan Spooner, and Riley Nash have also been huge assets for the team. David Krejci is quietly having a good season as well for the Bruins, being the rock that helps the young guys on the second line.
It is time to look at the strongest part of the team excluding the first line, and that is the incredible defense that the Bruins have managed to create. Led by Captain, 40-year-old Zdeno Chara, who is having one of his best seasons in a long time with a +27 plus/minus and being an amazing leader and teacher for the backend. The biggest part of Chara's success comes from Cassidy not overplaying Chara but keeping him fresh for when they need him most. Chara is also paired with what I believe may already be their best defenseman in rookie D Charlie McAvoy. McAvoy is more than likely the best rookie D-Man in all of hockey, and he has shown it all season. Sure, while he has had his struggles like any young player, he has become such a good, dynamic player in such a short time. With a plus/minus of +19 and adding on 25 points, McAvoy has been everything the Bruins have hoped for and more. But after the top line of defense, you come the question of then what.
It seems as though that any time people need players to fill in on defense, they step up in a huge way. Torey Krug is the leading scorer for the defense with 31 points, but he struggled early on in the season after the set back with an injury in Training Camp, but the more he plays, the more electric and true to form he gets. Players like Brandon Carlo and Kevan Miller have had good seasons as well, playing defensively sound and being great role players who do their job. I would also love to give Matt Grzelcyk some love, as he was thrown into a situation of an every day player with injuries to Miller and McQuaid and has real become a respectable good defenseman. I have always liked his game dating back to his BU days. He was overlooked and no one thought he could deliver due to his size, but with a +15 plus/minus, he has proven to be a key cog in the defense.
And finally, giving my respects to the goaltending of the Bruins. Tuukka Rask has played out of his mind this season after struggling early on, as he has 21 wins, a 2.09 GAA and a Save Percentage of .925%. He has made haters believers once again, playing his best overall hockey since the year he won the Vezina in the 2013-2014 season. He has helped steal a lot of games that the Bruins may have deserved to lose at times, and that's how you know someone is an elite goaltender. His backup Anton Khudobin as also played extremely well in relief. Winning 10 games, posting a 2.36 GAA and a .924% save percentage so far this season.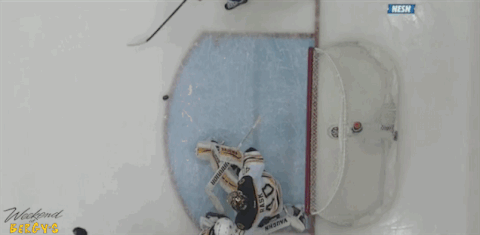 This team has a whole lot to be excited about, and they are serious contenders to take home the Stanley Cup. Yep, I said it. They are a special team, who kind of remind me of the 2013 World Series winning Boston Red Sox. They just have a vibe that not all teams have. I have my hopes for them the rest of the season and I am happy to be covering them and the entire NHL the rest of the season.
Please give us a share, like and all that good stuff.
If you have any topics you'd like to hear about, comment below!
Let's Go Bruins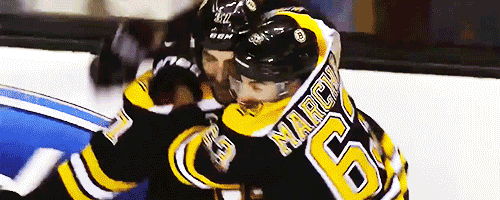 – Scott Edwards, The Creator of WTF Sports Nation