The announcement of the 2017-18 season NFL Awards is coming later on tonight as the NFL holds its annual NFL Honors award show the night before Super Bowl LII. And while some appear closer than others, I give a hard look at all the awards and give my final thoughts on who should be taking home the hardware. The awards that will be discussed (in order) go as followed:
  -Special Teams Player of the Year

    -Most Improved Player
-Offensive Player of the Year
-Offensive Rookie of the Year
-Defensive Rookie of the Year
-Defensive Player of the Year
-Comeback Player of the Year
-Coach of the Year
-Most Valuable Player
So why keep rambling on when you can see there is a lot of work to be done, so let's get it.
Special Teams Player of the Year
Candidates –
Greg Zuerlein, K Los Angeles Rams
When it comes to the Rams, many will think this season about Todd Gurley, Jared Goff, and Head Coach Sean McVay, but people cannot overlook the clear-cut best kicker in all of the NFL. This season, Greg Zuerlein played in only 14 games due to a back injury that ended his season early, but he delivered on legitimately every kick he needed to make. Zuerlein went 38/40 on Field Goals, which is straight up impressive. That is 95.0% on field goal attempts, which makes him even more remarkable. To go in a little deeper, Zuerlein was 12-12 from 40-49, and 6-7 from 50+, making him even more remarkable this season. I would say he is probably the frontrunner out of the Kicker position to take this award home.
Budda Baker, FS Arizona Cardinals
Rookie safety Budda Baker took the game of Special Teams by storm, as he was able to be a noticeable part of a not so pretty Cardinals team this season. He was extremely impressive all year long, showing the pure hustle and grit that any team would want in a Special Team specialist. In his rookie year, not only did he make the Pro Bowl, but he also was First-Team All Pro, which is not something easy to do. Sure, none of his stats are pretty by any means, but he managed to force two fumbles on Special Teams, while also accomplishing many big-time tackles not allowing his team to give up any field. He had a great season, and he would love to cap it off with such a big award.
My Winner: Greg Zuerlein, K Los Angeles Rams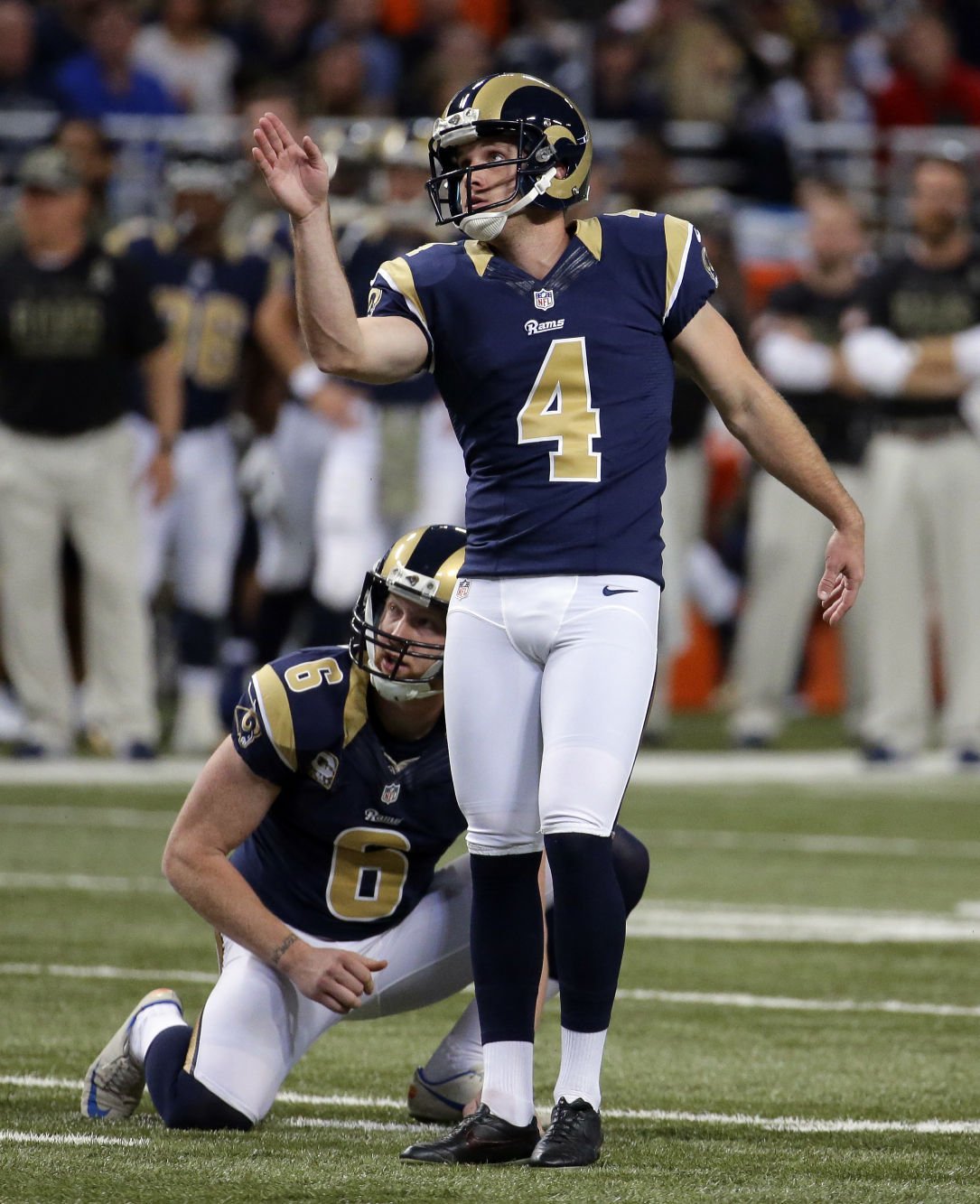 Why: Yeah, I know this is probably the least important award to you if you are reading this. But, I will continue because Kickers are people too. Greg "The Leg" Zuerlein was simply remarkable this season. If you had him in Fantasy Football, you KNOW how damn good this guy was. From a week to week basis it seemed he would be contributing at least two field goals, and multiple PATs, and even more other weeks. He was a lights out kicker, if that exists, and he will be taking home the hardware as the NFL's Special Teams Player of the Year.
Most Improved Player of the Year
Candidates –
Case Keenum, QB Minnesota Vikings
After a few seasons of just trying to find himself a team, Case Keenum finally needed to be the center point of a team, and the man flourished. Case Keenum entered the scene for the Vikings once QB Sam Bradford went down with an injury after the first game of the season. Not only was Keenum given a chance to fill in, but a chance to win the starting job, and that he did. It was clear after Bradford gave it another shot, it was Keenum or bust for the rest of that season. Keenum appeared in 15 games, while starting 14, throwing for 3,547 yards, 22 TDs, and 7 INTs. This was simply his best season, after somewhat being forgotten after a couple rough years in Houston and Los Angeles, and many were happy in this feel good season. The NCAA All-Time leading passer was part of the Gruden QB Camp back when he was getting drafted, and Gruden stated how it doesn't matter where you are drafted, it just takes the right coach to give you a chance. This was a great story all season long, and no one would mind seeing Case be recognized for such a brilliant, bounce back season.
Jared Goff, QB Los Angeles Rams
Something tells me a lot of these awards will have Los Angeles Rams personnel involved. And it proves here. After about a half season or so of starting for the Rams in his rookie season, Jared Goff was casted off as a for sure bust after being the first pick in the 2016 NFL Draft. However, exit the worst coach in history of Jeff Fischer, and enter young up and coming coach, 31 now 32-year-old Sean McVay. Sean McVay helped make Kirk Cousins a franchise like QB for a few seasons, and now he was tasked with getting out Jared Goff's full potential. Goff answered and then some. Jared Goff became a Pro Bowler this season, throwing for 3,804 yards, 28 TDs, and 7 INTs, which he threw in just seven games last season. Goff showed the potential that everyone saw coming out of college, and he helped make the Rams a team that everyone can see being in the Playoff hunt for years to come. As a fan, I was happy to see Goff prove everyone wrong this season, and there's a good chance he is taking home such an award that he worked for.
My Winner: Jared Goff, QB Los Angeles Rams
Why: This has to be one of the toughest awards for this season, due to the fact that there are two players that absolutely deserve it, while there is usually only one player a year. While Case Keenum had such an amazing season for the Vikings, Goff had one just simply better. When you looked at a Vikings matchup this season, it all came down to if the opposing team could beat that hulking defense, not stop the Vikings offense. But when it came to the Rams, you looked to the offense. While yes, a lot of credit goes to Todd Gurley, you had to respect the arm of Jared Goff. They got him receivers this season in Sammy Watkins, Robert Woods, and rookie Cooper Kupp, and they exploded. Jared Goff had such an impressive season, that I feel this one may be more of a layup than I figured once it comes down to the nitty gritty. So Goff over Keenum here, such a bounce back season for him and the Rams.
Offensive Player of the Year
Candidates –
Rob Gronkowski, TE New England Patriots
There is not one player in the entire NFL that can bring to the gridiron that Rob Gronkowski does to the Patriots. A combination of power, size, and speed becomes unguardable, and makes "Gronk" a favorite for this award every season. In a season where he was a Pro Bowler and first team All-Pro, Gronk gave an effort of 69 catches (nice.), 1,084 yards, and 8 TDs in just 14 games, in which one of him he sat out for the most part due to protecting him from injury. This season was just another day in the world of Rob Gronkowski, but what he delivers on the field is completely game changing and just a complete joy to watch. Gronk delivered this season, and it may just be enough to get him more hardware for his bookshelf.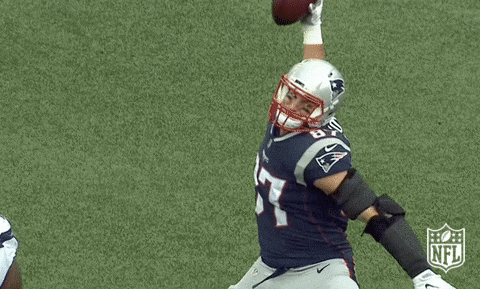 Le'Veon Bell, RB Pittsburgh Steelers
Let me start off by just saying this: No one can do what Le'Veon Bell can do. When Le'Veon Bell is healthy, he is one of the most dynamic people in the entire NFL. The ability to just wait and wait until he finds his hole in the defense is absolutely incredible. The strength he contains in his legs makes him a hard tackle every time he is on the field. He was undoubtedly First Team All-Pro, and he was listed as Flex. This is why I said no one can do what he can. Bell has the ability to be the best RB in the NFL, but also one of the best WR if he was listed as one. This season, Le'Veon Bell led the entire NFL in touches with 406 total, a whopping 60 more than the next highest. Bell had a league leading 321 rushing attempts, 1,291 yards rushing, 9 rushing TDs followed by 85 catches, 655 receiving yards, and 2 receiving TDs. This season, Bell brought everything to the table and had a beast of a season. He will be a challenging man to beat for the Offensive Player of the Year, since he may be the most complete.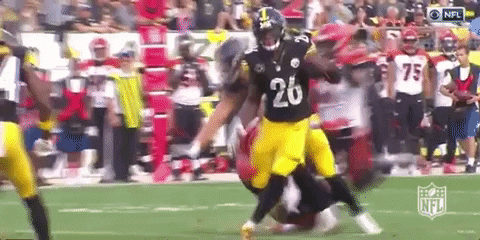 Todd Gurley, RB Los Angeles Rams
Todd Gurley is a freak. This man had an amazing season until Week 13. And in Week 14, Todd Gurley hit another level of freak. In a three game span, he had 56 total carries, 366 total yards rushing, 5 rushing TDs, 16 catches, 225 total receiving yards, and 3 receiving TDs. IN THREE WEEKS. This is absolutely absurd. And his complete season is pretty good too if you were wondering, as in 15 games he accounted for 279 rushes, 1,305 rushing yards, 13 rushing TDs, 64 catches, 788 yards, and 6 receiving TDs. Yep, he makes everything I said about Le'Veon Bell seem crazy, but dammit, they're different players and Todd Gurley was also out of his god damn mind. Anyways, after analyzing Gurley's season, it may be another Ram taking an award.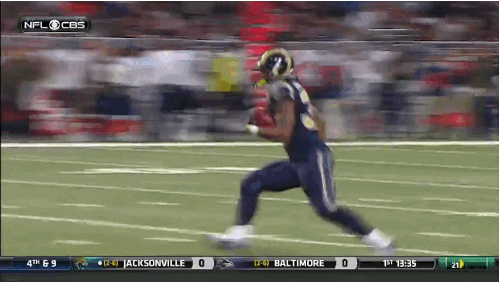 Antonio Brown, WR Pittsburgh Steelers
There isn't a better receiver in all of the NFL. Plain and simple. And in 14 games, he had 101 catches, 1,533 yards (which was a league lead), and 9 TDs. This guy is the best receiver in football, and it hasn't been close in years. He is a week to week difference maker for the Steelers, and it is proven he simply cannot be covered. In the playoffs against the Jags, quite possibly the best defensive team in all the NFL, Antonio Brown, who played hurt, torched the Jalen Ramsey/AJ Bouye combination for 7 receptions, 132 yards, and 2 TDs. I believe if he played the last two games in the regular season, he would be a true top contender to be the first WR to win Most Valuable Player, but hey, I don't think he'd complain taking the Offensive Player of the Year award.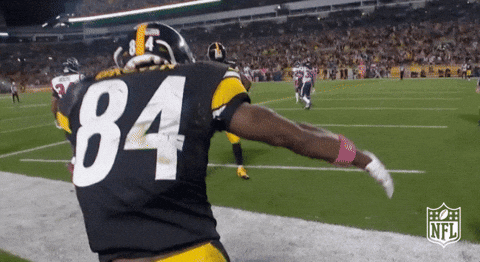 My Winner: Todd Gurley, RB Los Angeles Rams
Why: Remember when I said that the Most Improved Player of the Year award was one of the hardest? Well, now I will have to go with this award. And to me, it really comes down to two players; Antonio Brown and Todd Gurley. Both were difference makers more than the others I guess is what I am saying. The thing that hurts Brown's case is getting hurt. I really wish I knew his full season numbers had he played at least one more game and even finished the Patriots game. Also, not just that, but what Todd Gurley was able to accomplish this season. He had a masterful season, being the best offensive weapon for any team, and any defense who played the Rams had to game plan to stop just him, cause one touch could win the game for him. This season was undeniably the year of Todd Gurley. Don't believe me? Just wait, there's more. And yes, that is 3/3 for Rams players on these awards.
Offensive Rookie of the Year
Candidates –
Kareem Hunt, RB Kansas City Chiefs
If I am being completely honest with you, this is the award that made me want to write this long prediction blog, not because of MVP, or anything like that, but because of players like Kareem Hunt. Kareem Hunt was fantastic this year. Rookie Kareem Hunt entered the league with an absolute bang. First of all, he had to take over for Spencer Ware, who was the starting RB coming into the season, hurt himself in the third preseason game, ending his season prematurely. So anyways, in the opening game of the season versus my beloved New England Patriots, Hunt delivered 17 carries for 148 yards and 1 rushing TD and felt like adding 5 catches for 98 yards and two receiving TDs. Yeah, so I'd say he showed up on the big stage. And for many games, Hunt had great weeks, but he hit a point of regression, but many believe it is difficult to fully blame him when they didn't use him enough for weeks upon weeks. But regardless, he delivered a league-leading 1,327 yards rushing, 8 rushing TDs, 53 catches, 455 yards receiving, and 3 receiving TDs. All of this, in his rookie season. Oh, he also made the Pro Bowl. So, I would say, for at least the first half of the season, he was your favorite. And final statistics prove, he still may be.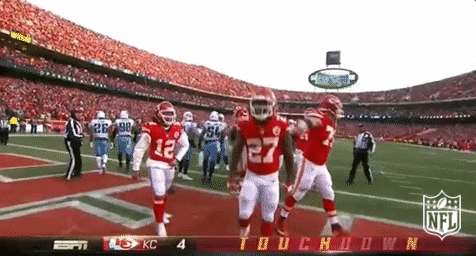 Leonard Fournette, RB Jacksonville Jaguars
Coming into the season, Leonard Fournette was more than likely the favorite for this award. I know he was mine, and I went all in on him. He is a beast. He proved that he is a beast. He was a huge difference maker for the Jaguars this season, and sure, while they added to their defense that made it possibly the best in all the NFL, this offense still needed to score points. And all of the offense ran through Leonard Fournette. His numbers aren't completely beautiful, but I believe his foot injury that he struggled through all season is the reason why more than anything else. Fournette played in a total of 13 games, getting 268 carries, that resulted in 1,040 rushing yards. While the average yard per rush of 3.9 is nothing special, he was able to churn out yardage late in games. His 9 rushing TDs in the regular season are why he cannot be overlooked. He was knocked coming out of college for not being able to catch the ball, but he was able to deliver 36 catches for 302 yards and one TD. And in the Jaguars biggest win of the season, he had 25 carries for 109 yards and 3 TDs in the playoff win over the Steelers. Fournette can not at all be overlooked for this award, as he may have been the most important player to the Jags all season, offense guaranteed.
Alvin Kamara, RB New Orleans Saints
Ever since Week Four in the regular season, I have been wanting to write something about Alvin Kamara. Why? Well, if you could tell from his full season success, you'd know exactly why. He has something special that not all players possess. I can't necessarily but a name to it, but he has IT. That ability to be a game changer every single time he touches the ball. Now remember, week four, the Saints still had Adrian Peterson on the roster, and it seemed none of the RBs could ever get enough play to make a difference. It wasn't until week six that we got to see Alvin Kamara truly get full playing time. And from that moment, game changer. It seemed on a weekly basis that Kamara was either getting 100+ scrimmage yards, or multiple TDs. To give you a look into his complete success, Kamara had only 120 rushes for 728 yards, making an impressive 6.1 yards per carry for the season. Adding on 8 rushing TDs never hurts either. And since he may be the best dual threat in the game, he added in 81 receptions going for 826 receiving yards and 5 TDs through the air. 1,554 yards from scrimmage for the rookie, in a season where he wasn't fully in the system until about week 6. He was also fantastic at kick returns, in which he only had 11 total, but they went for an average of 31.5 yards. And he took one to the house because of course he did. 106 yards, the longest of the season. He was truly dynamic, and in this extremely impressive season of rookie RBs, the one that got his chance the latest may have taken the cake as Offensive Rookie of the Year.
Honorable Mention:
Deshaun Watson, QB Houston Texans
I'll make this quick, but at one point, this award wasn't even close. Deshaun Watson was changing the game, being must watch television on a week to week basis and seemed to be unstoppable, even in losses. To go in further, Watson played in just 7 games, starting 6 because for some reason Bill O'Brien thought starting off the season with Tom Savage and not your first round pick would be brilliant. Anyways, in 7 total games, Watson threw for 1,699 yards, 19 TDs and 8 INTs. He had 19 TDs in just 7 weeks, and that doesn't even bring in his ability with his legs. He also had 269 yards rushing and 2 TDs. He was electric, and his connection with DeAndre Hopkins is something to love for the coming seasons. He will be my pick for next years Comeback Player of the Year.
Winner: Alvin Kamara, RB New Orleans Saints
Why: This award for me all comes down to one thing this season… Consistency. That is exactly what Alvin Kamara is. He was able to put the Saints on another level, a level that I truly thought would bring them to the Super Bowl. He scored the go ahead TD in the playoff game against the Vikings, which looked to be the game winner, well of course we know it was not, but the fact Drew Brees has the trust he did in Kamara all season long proves the ability that he brings to the field. He was a Pro Bowler with teammate Mark Ingram, which is unreal that two players from the same offensive position not called WR is insane. Kamara brought consistency that Kareem Hunt did not, which may be his only knock, but it means so much in the NFL. So Alvin Kamara is your 2017-2018 Offensive Rookie of the Year.
Defensive Rookie of the Year:
Candidate and Winner:
Marshon Lattimore, CB New Orleans Saints
Why: So, I could have given you some information on Tre'Davious White of the Buffalo Bills, but he was not better than Marshon Lattimore. And then there is no one close after him. Marshon Lattimore is an elite corner in the NFL already. Back to back seasons, the NFL Draft gave us Elite cornerbacks in Jalen Ramsey and now Marshon Lattimore. Lattimore helped change the Saints defense from laughing stalk to a serious threat. Lattimore had 5 INT on the season, but that doesn't do his play justice. You need to remember, Lattimore has to match up with Julio Jones and Mike Evans twice a year. He made the Pro Bowl as a rookie at a position that the referees aren't to generous with, so he, simply is, the Defensive Rookie of the Year.
Defensive Player of the Year:
Candidates:
Calais Campbell, DE Jacksonville Jaguars
This past offseason, the Jacksonville Jaguars started off the offseason by signing 31-year-old DE/DT Calais Campbell away from the Arizona Cardinals in a deal of 4 years / $60 million. Many analysts thought this deal would come back to hurt them in the end. Well season one I'd say went pretty well. Campbell was the leader of the Jacksonville defense, leading the team with 14.5 sacks and being a run stuffer up front all season long. He was a dominating force and was recognized as First Team All-Pro by the Associated Press. The deal clearly paid off, as he helped be the complete leader for the young Jaguars team and be part of leading them to the playoffs for the first time in years, and even the AFC Conference Championship game. He is more than likely the favorite to take this award home.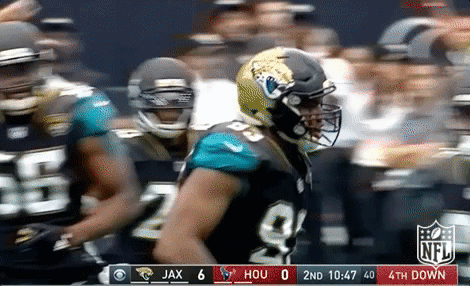 Aaron Donald, DT Los Angeles Rams
Stud. Superstar. To me, Aaron Donald could be the most dominant player in the entire NFL. This season, Donald totaled 11.0 sacks, 32 tackles, and 5 forced fumbles out of the Defensive Tackle position. For those of you who may not know, that is an absolutely insane season. Especially out of that position. The former AP Defensive Rookie of the Year could now be on his way to adding a big trophy to the resume. He added a First Team All Pro to his many accomplishments this season, and was the overall leader that the young Rams needed to move ahead in the pack. This award comes down to two versatile, big, gritty dudes who just love to play football. To me, it shouldn't go to anyone else besides them. And it may finally be the year that Aaron Donald adds the biggest achievement for a defensive player to his already stacked resume.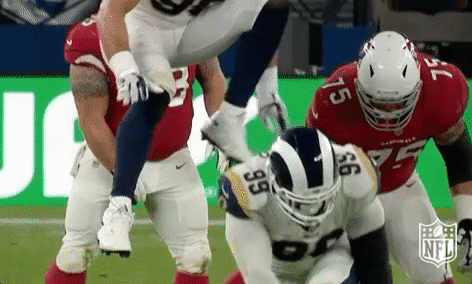 Winner: Aaron Donald, DT Los Angeles Rams
Why: This was a tough one, because of Calais' absolute dominance that can't go unnoticed, the dominance that led to the Jags defensive success, but to me it comes down to one thing. Who was more valuable to their team? That would be Aaron Donald. Without Aaron Donald, that defense would have been a mess. The man is a machine, a machine that plays almost every snap at such a grueling position. When it comes down to all of these awards, it feels as though the Rams are taking the cake on most. Why? Because it was such a huge bounce back and they had so many players that came through huge for their team's time and time again. So, this one is for Donald, he had a hell of a year, and could simply be recognized as the best defensive player in all of football, even with JJ Watt at full strength, that's how good Donald is.
Comeback Player of the Year
Candidates –
Earl Thomas III, FS Seattle Seahawks
Last season, Earl Thomas suffered a horrific injury that brought him all the way to the possibility of retirement. However, he decided to give it a go for Seattle this season, as he felt he had a lot of football left to play. Earl Thomas, 6x Pro Bowler and 3x All-Pro, was ready to face his toughest challenge yet, and it all came down to his body. Let's just say, he answered. Loudly. Thomas was once again among the best safeties in the league, totaling 2 INTs, including one taken to the house for 6, 1 Forced Fumble and 56 tackles. To me, Earl Thomas has been the most important player and best player on this Seattle defense, a defense that has Bobby Wagner, Kam Chancellor, and Richard Sherman employed to it. He has become the heart and soul of the Seattle Seahawks, and he was able to bounce back and show once again what he is all about, giving him a great chance at the Comeback Player of the Year award.
Keenan Allen, WR Los Angeles Chargers
There is something about Keenan Allen, something that makes him special. None of his measurables are off the charts by any means, and he isn't the fastest player on the field, but simply put, he gets it done. The 2015 and 2016 seasons were not kind to Allen, as he suffered season ending injuries in both. So this year, it seemed as if he had the most to prove. And he did not upset. Becoming, or at least continuing being Phillip Rivers favorite receiver, he was able to mark career highs in everything besides TDs. He brought in 102 receptions for 1,393 yards and 6 TDs. This season, Allen seemed to become one of the elite, and as long as Rivers his flinging it to him, he will continue to put up these outstanding numbers. He also managed to play all 16 games for the first time in his career, which helps his cause along with the amazing statistics he was able to put together.
Winner: Keenan Allen, WR Los Angeles Chargers
Why: It all comes down to the fact he put together a career best season. Sure, Earl Thomas had a spectacular season as always, but Allen but forward career best while staying healthy. He was able to help give Chargers fans hope as they were in the midst of a bounce back season after multiple seasons of mediocrity. Allen putting stats together that rival many of the top players in the game is a good look and helps you understand how good he has become and will continue to be, only being 25 years of age. I feel after around week 4, Allen was finally able to find his feet and run away with this one. Playing his first ever complete season, Allen showed what he could deliver and why he will be feared by many defenses for the coming years, taking home the Comeback Player of the Year award.
Coach of the Year:
Candidate / Winner:
Sean McVay, Los Angeles Rams
Why: Let me just say. This award has to be the worst. Why? Because I feel it has to go to the Coach that improved his team the most this season, rather than the best coach overall. Because if that was how it truly worked, Bill Belichick may as well be undefeated in this category. Stupid. But anyways, knowing how the voters work, it can't not be Sean McVay. McVay just turned 32 years of age two weeks ago, and his resume already has NFL Head Coach on it. And not just a head coach, but among the best in the league. Along with Kyle Shanahan this past offseason, I was most excited to see what McVay could do with his team now that he is in charge. And what he did was simply astounding. He got the potential out of Jared Goff that many had already given up on, he made Todd Gurley an MVP-caliber player, and he made a Rams team who were a complete mess in their first season back in LA a must see team on a week to week basis. Simply put, he made this team rise to levels no one believed they could, get this young team into the playoffs and is a big reason that the Rams will be taking home so many awards tonight. So congrats to Sean McVay, there is zero chance you are losing this one, my Coach of the Year.
Most Valuable Player:
Candidates:
Carson Wentz, QB Philadelphia Eagles
I could not think of one thing bad about Carson Wentz season besides an torn ACL that knocked him out for the season during his 13th game. Had he been able to play all 16, this may not be a question of who was winning this award. Carson Wentz was the second overall pick in the 2016 NFL Draft after the Eagles traded up to take him and see if he could be their franchise QB. Well this season, he proved he can be even more than that. In 13 games, Wentz went 11-2 with 3,296 yards, 33 TDs, and just 7 INTs. He was outstanding, making it look easy on a week to week basis. But to me, what hinders his chances besides the injury, is what the Eagles were able to do without him. They've made it to the Super Bowl, without the franchise under center, and it seems as if Doug Pederson's system may be the biggest part of the Eagles success. I don't want to take anything away from this star studded QB, but these are the only things hindering his chances, but he may be able to take home that Most Valuable Player regardless.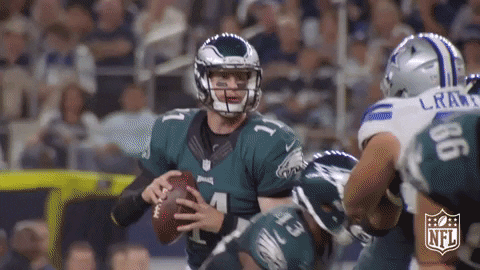 Todd Gurley, RB Los Angeles Rams
It would be extremely hard to keep the Offensive Player of the Year out of the MVP voting, especially with the type of year Gurley had. I could read you off all his stats again but that won't be needed (look at Offensive Player of the Year for full write up). Instead, understand how he was able to help transcend the Rams into an offensive juggernaut. How he was able to make defenses look silly on a week to week basis. He was a certified game changer who could not be stopped, and if he was ever stopped, he opened up other abilities for this team. He was able to succeed as a rusher and a receiver, resulting in a monstrous year and a possible MVP award.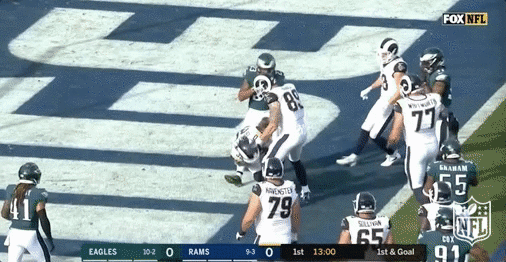 Tom Brady, QB New England Patriots
When you think of the meaning of Most Valuable Player, what comes to your mind? I would say, it is the player who if a team didn't have, would not have nearly as much success of they were without them. For example, Lebron James is the most valuable player to any team in basketball. If you have him on your team, you are more than likely going to the NBA Finals. Well, in football, that's Tom Brady. Tom Brady has been to 7, I repeat, 7 Super Bowls in his career. And coming off a win and into his age 40 season, people were wondering if he could continue his excellence or finally fall off the wagon. Instead, he performed at the highest level imaginable. Having simply the best season for a 40-year-old QB, Brady threw for 4,577 yards, 32 TDs, and just 8 INTs, having a QB rating of 102.8 and a QBR of 70.2. After a season in which he would have been awarded had he played all 16 games and wasn't screwed by the NFL, he may be taking home the MVP award once again. And to go a little deeper, while playoffs for some reason have no affect on the award, Brady was able to lead his team back to a record 8th Super Bowl for one player and will look to claim his 6th ring after a heroic comeback against the Jacksonville Jaguars in the AFC Conference Championship game. It simply may all be enough for Brady to take home his 3rd Most Valuable Player award.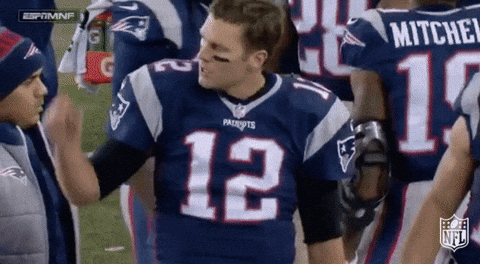 Winner: Tom Brady, QB New England Patriots
Why: You didn't really think I would pick someone else not named Brady for this one, right? Brady is the most important player to any team in this league, and he truly is the Greatest of All Time. It seems as if each season he needs to keep proving the haters wrong, which is completely fine, it is a joy to watch. But in a season where there were so many losses to the Patriots roster throughout the season, having to gain chemistry with new weapons, and not having his number one guy all year, Tom Brady, at age 40, defined the odds and looks to be the best player all year. Whatever you want to call him, Comeback Kid, Tom Terrific, the GOAT, TB12, I think he will be okay with being called MVP once again.
Finally, its over. This has been the biggest blog/article I have ever wrote in my life. I have enjoyed every single part of it and I hope you do too. I will be back tomorrow morning with my Super Bowl prediction, but until then, please enjoy, share and all that good stuff.
Don't forget to Join the Nation. If you have any interest in writing, have questions, or anything at all. Please email wtfsportspod@gmail.com.
-Scott Edwards, The Creator of WTF Sports Nation