This is crazy. We live in a crazy world, we really do. This past summer, we got to witness a superfight with undefeated boxer Floyd Mayweather facing UFC Undisputed Lightweight Champion Conor McGregor in an exhibition Boxing match. It was such a big fight that it came second in all-time PPV sales, just behind Mayweather/Pacquiao. And today, Dana White shocked us all when he stated: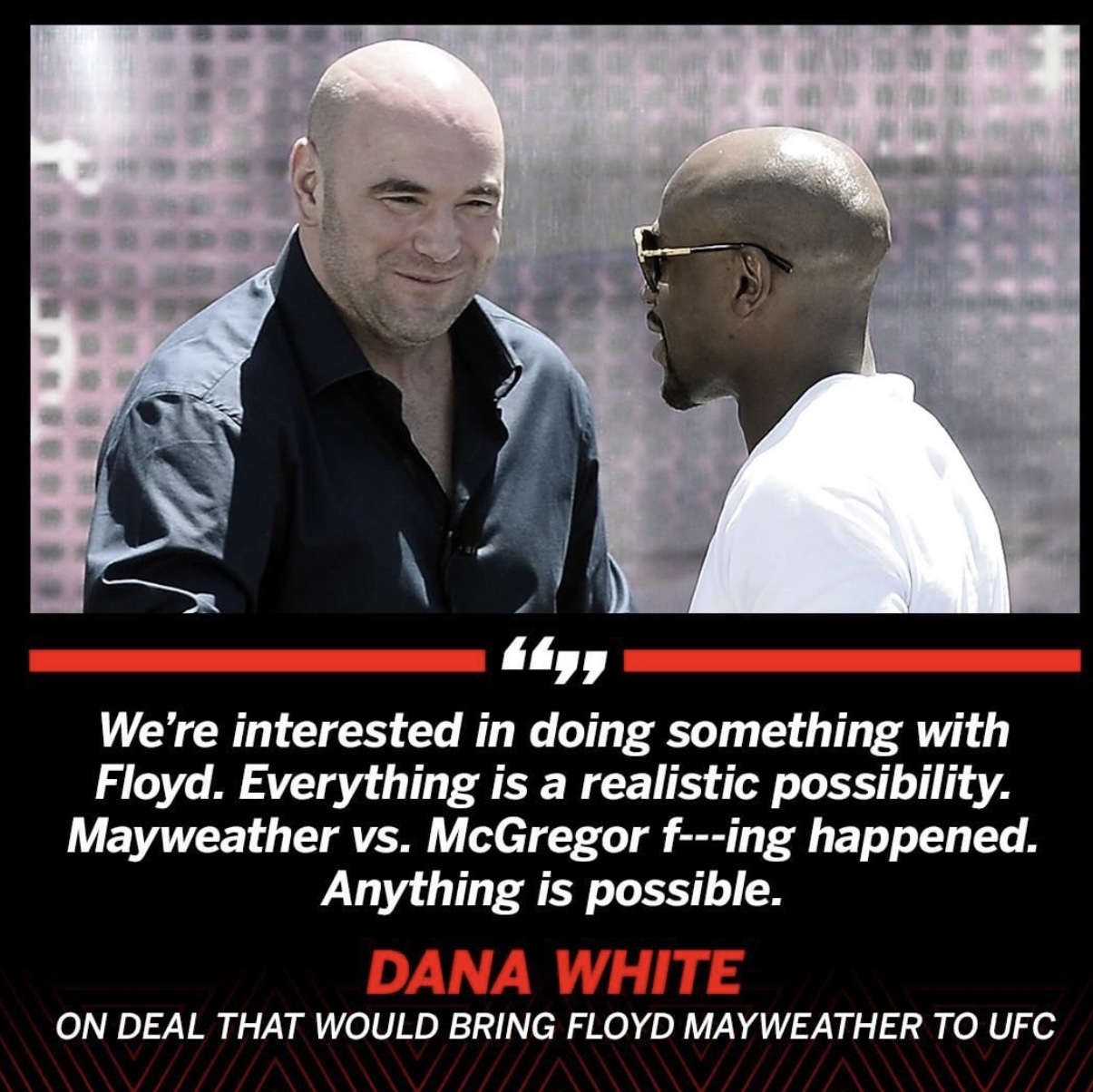 This means they're in talks to get Floyd "Money" Mayweather into the octagon. This would be, well, something is for sure. Almost a guarantee to be the UFC's highest PPV buys if they somehow get him in there, and it would for sure be against a true opponent. Mayweather is at the age of 40, but showed in his last fight that he still has the quick hands and dominance he once possessed. And now, it looks as if his next destination is the Octagon.
My Take: This could be extremely dumb by this man. I'm sorry, yes, he is one of the greatest boxers to ever do it, maybe even the best being 50-0, but the Octagon brings so much more than just throwing punches. He is usually at 150 lbs around his fights, and now you're trying to tell me he could take on the likes of Conor McGregor, Tony Ferguson, Khabib Nurmagomedov or Eddie Alvarez inside the Octagon? That is unsafe. That is just an insane idea. The best bout is clearly a rematch between him and McGregor, as this would be a fair deal, with Mayweather now stepping in his home. In brings a whole dynamic to look forward to in 2018, with the sheer possibility that we get Floyd Mayweather inside the Octagon, in the UFC.
Please feel free to share and enjoy, even give your take on the Mayweather/UFC possibilities.
– Scott Edwards, The Creator of WTF Sports