The Baltimore Orioles are finally realizing that when it comes to their superstar 3B/SS Manny Machado, he will not be resigning this time next year when he enters free agency. So, via FanRags' Jon Heyman, several teams have now made an offer to the Orioles for the talents of Machado. This brings another Superstar to the forefront of trade talks, just days after the reigning NL MVP, Giancarlo Stanton, was traded to the Yankees (ugh). With this trade news, various reports have come out that Machado may not agree to sign any extension, and he would also want to return to his natural position of Shortstop, leaving his main major league position of Third Base. This just adds to the price for Machado I feel, as it is much harder to find such an elite player like him, with his amount of power and defensive prowess at possibly the most important position. If and when Machado enters the market, he may be one of the first elite SS on the market in a long time. First, let me explain what Machado would be bringing to the table for a team that is eventually able to acquire his talents.
Manny Machado is a career .279 hitter, with hitting 30+ Home Runs the past three seasons, and finishing top five in the MVP voting twice in the past three seasons. Along with the ability to go to the plate every at-bat and possibly deliver a clutch base hit, he has also captured two Gold Glove awards for his work at 3B, and a premium Platinum Glove which goes to the leagues best fielder, which he has accomplished before the age of 25. Machado, now 25, is just about to enter the best years of his career, and he has become available to any team that wants to give up enough for him, which I feel is something the Orioles must do if they want to have a shorter rebuild than a team like the Padres or Phillies. We all know there is no chance that Machado stays, given the fact the Orioles just will not be able to outbid teams who want to bring his talent on. So, here are the teams that seem to be in the hunt, I'll discuss who makes the most sense: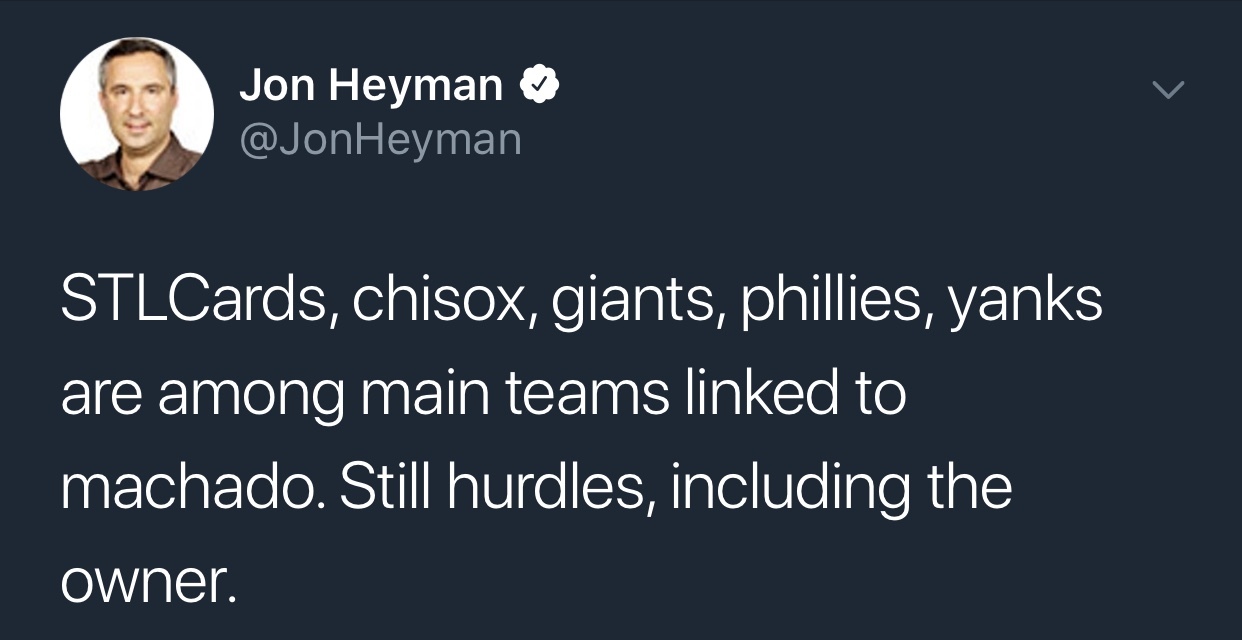 St. Louis Cardinals:
The Cardinals cannot handle being out of the playoffs, after missing them now the past two seasons after going five straight seasons of deep playoff runs. They were just able to add Marcell Ozuna to the team, adding a lot of pop into the middle of the lineup and to their outfield numbers. Now, they continue to try and add a 3B/SS option by calling into both the Orioles and Blue Jays for their star corner infielders. I feel the Cardinals actually do make a lot of sense, in the fact that they have the pitching prospects to make this monumental deal to lead them back to the post season. They have been on the brink of the playoffs these past two years, and these moves would bring them into a win now situation, rather than a wait-and-see approach with many stars on their roster entering their lesser years. I feel this would be the best situation out of the teams mentioned by Heyman, as it brings a different look in the entire NL race and makes it even more competitive than it will shape up to be this season. A package including top young starting pitcher RHP Alex Reyes would be a huge part of this deal going through, but again, we will see.
San Francisco Giants:
Nope, not happening. They could have sent an offer to the O's, but this isn't like the Stanton deals pal. They aren't taking players who are mid-tier at best for a superstar because you will take on tons of money, nope. They actually want two quality pitching prospects, and more than likely even more. This just is not happening. The Giants have nothing. If you look back at me trying to make a case as to why Giancarlo Stanton and the Giants may be a fit, it was hard enough to find talent to send over (little did I know you could send a bag of rocks for him as long as you pay out the contract). It will come down to maybe getting lucky, but they may be more unlikely than most teams on the list to get him. Hey Giants fans, at least you brought Pablo back. Hate that dumb Panda. Have fun becoming irrelevant.
Philadelphia Phillies:
This is actually very interesting. I never really thought about the Phillies as a serious threat any time soon, but they are quietly trying to make moves to become one once again. So far, their offseason has started off extremely strong. They just welcomed a new manager in Gabe Kapler, who I feel could truly be a great manager and he could really connect with the players. In the past few days, the Phillies have added to their bullpen, with the signings of Tommy Hunter and 2017 All-Star Pat Neshek. These are moves that no one expects to write home about, but they have been in the hunt for a superstar and other people to add to build their team. They have been linked this offseason to many notable names, such as Giancarlo Stanton, Carlos Santana, Christian Yelich, Zack Greinke, and Jake Arrieta. These are all players a team doesn't just add in a season you want to tank in. They feel ready they can make a splash, and are looking at players who can help them do so. The Phillies have prospects like JP Crawford, Sixto Sanchez, and Mickey Moniak who could all be big parts of a trade. They are also trying to move Cesar Hernandez or Freddy Galvis. So, if I am going to pick a team that I want to acquire the likes of Manny Machado, let it be the Phillies. Let them try and get back to the glory days of Ryan Howard, Jimmy Rollins, and Chase Utley. The more I continue to talk about them, the more I become totally onboard with this. So hey, go for it "Fightin' Phils", I am rooting for ya.
Chicago White Sox / New York Yankees:
I combine this due to the fact of what the plan is of the Chicago White Sox. And frankly, I hate it. I hate this, I hate it so much that I may just never want to watch baseball again if it works. Ken Rosenthal is reporting that the Chicago White Sox have entered trade negotiations to try and acquire the star third baseman from the Orioles in the hopes to then flip him to the New York Yankees for some of their super prospects from their rich farm system. This is a big one, and one that makes me really hope we can have one year with Machado away from New York, as he is expected to be the top guy they go for once he enters free agency in the 2018/2019 offseason. The possibility of the New York Yankees adding Giancarlo Stanton and Manny Machado in the same offseason makes me want to not watch baseball even a little next season. Sure, it would be amazing to see Judge, Stanton, Sanchez and possibly Machado swinging in the middle of the order, but I hate seeing the Evil Empire in New York possibly be that good, being the Yankees of old. And it looks like, this could be very possible –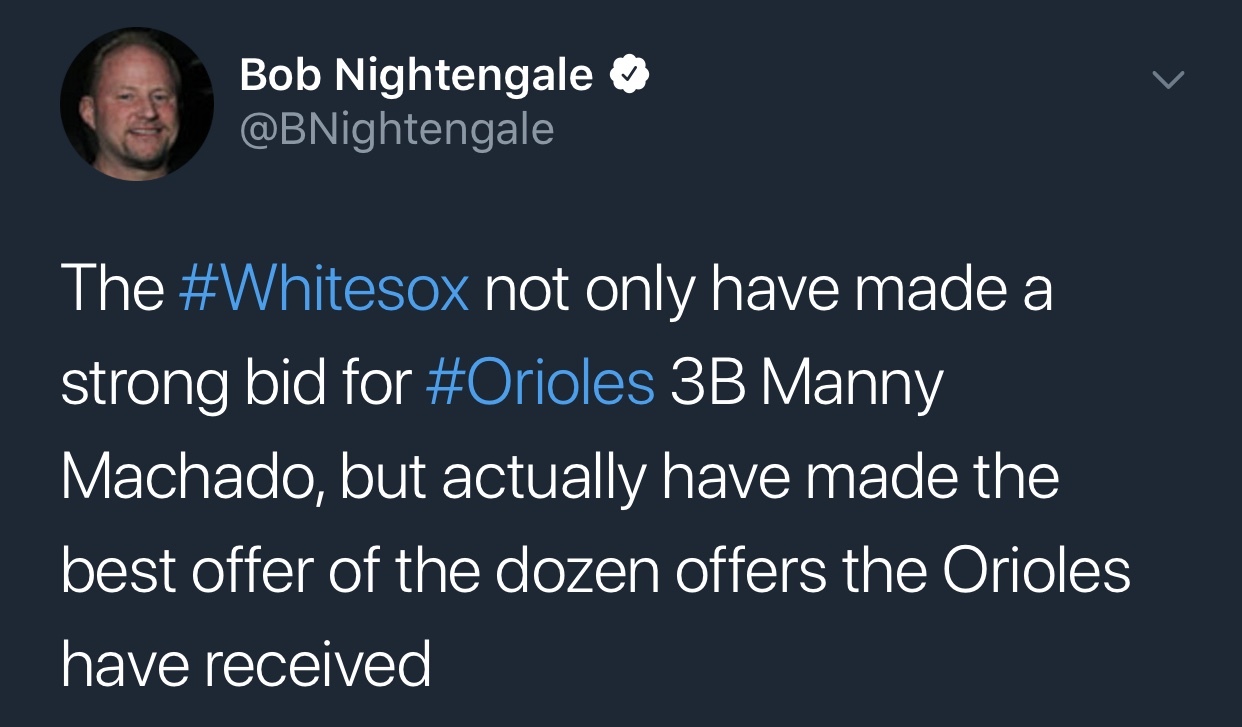 I'm fine, I swear I'm fine. P.S. Dave, wake up. (HELP US SOMEONE!!! DO NOT LET THIS HAPPEN)
So, will Manny Machado be dealt before the start of the 2018 MLB Season, or will the Orioles hold on for some reason and lose out completely? Gaining nothing and losing their superstar. We will see, now won't we?
Well I hope you enjoyed reading this, it was a fun one to go through and discuss as there is so much possibilities in the offseason this year. Please feel free to share, as that would be pretty awesome.
-Scott Edwards, The Creator of WTF Sports Nation