The Yankees made a surprise move this weekend by acquiring the National League MVP for Starlin Castro, and two Single-A Prospects. While the Yankees added the man who led the majors in homeruns (59) to a lineup that already led the league in homeruns, The Red Sox sat on their hands and tweeted about the "Rivalry", and new beer sponsorship.  The Yankees continued to make moves Tuesday by dumping Chase Headley's contract, by sending him back to the Padres along with Bryan Mitchell. They acquired Jabari Blash in return, but this was purely a contract dump, and nothing else. The Yankees are now $30 million under the luxury-tax threshold according to Ken Rosenthal, meaning they are still in the race for Manny Machado or other trade candidates. I'm not going to sugar coat it, this is bad for the Red Sox, who to this point have not done anything. However, Winter Meetings is upon us, and Dave Dombrowski will not just sit there as the Yankees build a dynasty.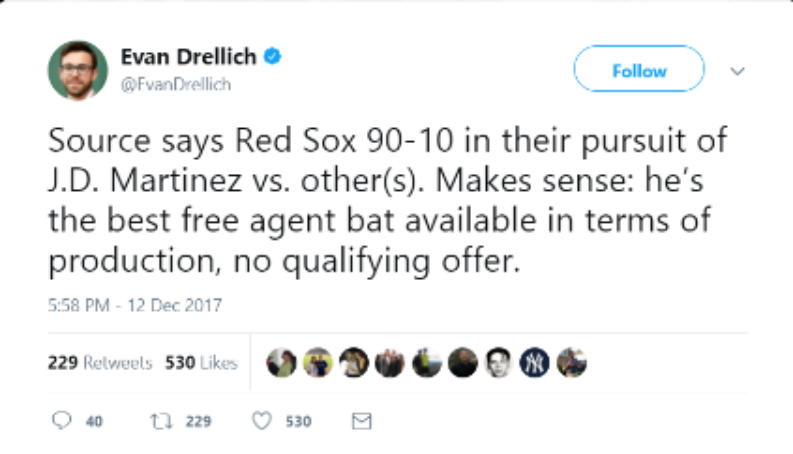 Evan Drellich reported that the Red Sox have a spent 90% of their time pursuing J.D. Martinez, the top free agent in this year's class. If the Red Sox are going to go almost all in on one player, I'm glad it's the man who has had almost identical numbers to Giancarlo Stanton since 2015: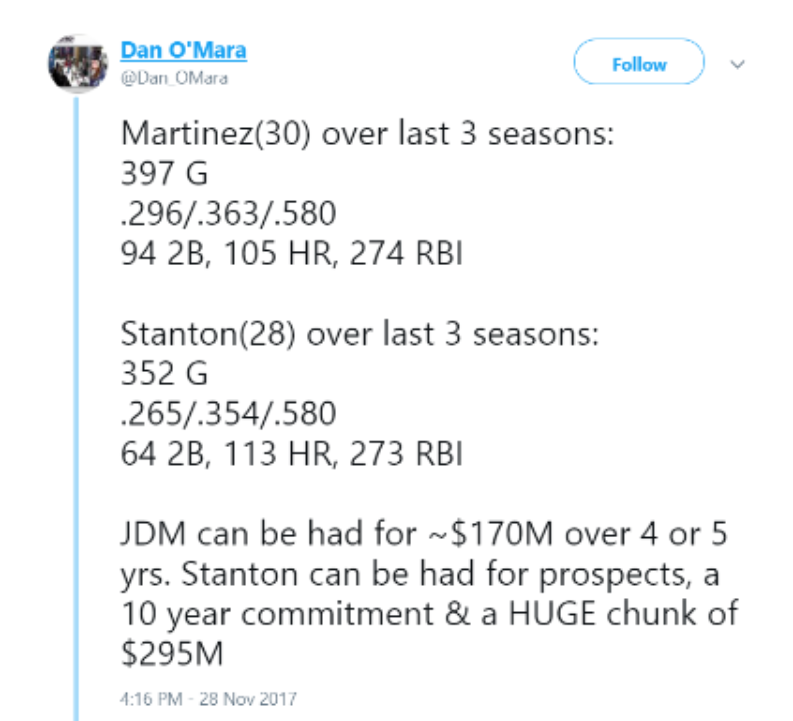 Most people do not realize that Stanton and Martinez are almost a wash. Stanton is younger, but Martinez does not cost any prospects or MLB talent, and he does not even have a qualifying offer, due to his mid-season trade to the Diamondbacks. I would love J.D. Martinez and expect the Red Sox to pony up and get him, but one player will not fix the teams lack of offensive production. The question is, who else should the Red Sox target?
Eric Hosmer:
               Eric Hosmer is coming off his best season in 2017, hitting .318, with 25 homeruns, and 94 RBI's. He is a career .284 hitter, with inconsistent power. He is not the guy that is going to fix the Red Sox's offensive production. That being said, he is a great five-tool player that can help the Red Sox win. Hosmer was the 2016 All-Star game MVP, 4-Time Gold Glove award winner, (2013-2015, 2017) and a 2017 Silver Slugger. He played in all 162 games last season, and has only missed significant time in 2014, when he broke his hand. Hosmer does not have a multitude of teams competing for him, so should be bought for a discount, even with Boras as his agent.
Jose Abreu:
               Jose Abreu would be my favorite trade target now that Ozuna is gone. I would take him over any other realistic trade target. Abreu is already 30, entering his age 31 season. Abreu hit .304, with 33 homeruns, and 102 RBI's in 2017. He has been one of the most consistent hitters in the league over the last four seasons, since arriving from Cuba. He has never hit lower than .290, and has two seasons where he hit over .300. He plays almost every day, averaging 154 games a season. He has only had one season where he hit under 30 homeruns, (25 in 2016) and has hit up to 36. (2014) He also has been between 100 and 107 RBI's in all four seasons. From a consistency standpoint, there is nobody better.
Making the Case for Hosmer:
               Eric Hosmer is the better all-around player. He can hit for average, and has enough power to hit in the middle of the order. The problem is that adding Hosmer would not fix the low power numbers for the Red Sox. Mitch Moreland hit 22 homeruns last year, only three less than Hosmer, and battled numerous injuries all season long. Eric Hosmer would still be a great fit to the Red Sox lineup because he can keep the line moving, while driving in his teammates. If we land J.D. Martinez, then I would put Hosmer on the top of Dave Dombrowski's shopping list. As long as J.D. can hit for power, adding a guy that hit .318 last season can only help. Hosmer has proven that he can hit in the clutch (.276 BA and 29 RBI's in 31 postseason games) and, would allow Hanley Ramirez to continue to DH. The formula that sent the Red Sox to the playoffs last year was clutch hitting and keeping the line moving. The reason they Sox won so many games is because they could score five runs at any moment, and never gave up. Martinez alone could help boost our homerun ranking to the middle of the pack. I also would expect bounce back seasons from two or three of the following players: Mookie Betts, Hanley Ramirez, and Jackie Bradley Jr. We also get a full season of Rafael Devers, and year two of Andrew Benintendi. We also need to remember that homeruns are not the only way to win ballgames. The Sox won the division over the team with the most homeruns last season. Hosmer is the best overall first basemen available, he is only 28-years-old, and for some reason people do not want to pay up for him.
Making the Case for Abreu:
               Jose Abreu is one of the most consistent performers I have ever seen. I highly value consistency, which is why I would be willing to deal a guy like Jackie Bradley Jr. to get land him. Abreu has two years left of arbitration, compared to Bradley's three. We would have to give up more prospects, including Michael Chavis, who as I mention later is blocked at 3B anyway, and is not as safe a bet at 1B as Abreu. He would fix the power issue and solidify the middle of the order. The White Sox claim they are content on keeping Abreu and need to be blown away to deal him. If this truly is the case, I am totally fine with the Red Sox going after Hosmer and keeping the few prospect Dombrowski hasn't already traded.
Here's what I wrote before the Cardinals ruined my dreams and traded for Marcel Ozuna:
Marcel Ozuna:
               Marcel Ozuna broke out in 2017, batting .312 with 37 homeruns, and 124 RBI's. That's good for the 7th best NL batting average, third in homeruns and RBI's. Ozuna has been overshadowed by Giancarlo Stanton in Miami, but had a phenomenal year. Ozuna participated in his second All-Star game, won a Gold Glove, and a Silver Slugger. He is entering his age 27 season, and has two years left of arbitration. Ozuna is projected to make $10.9 million in arbitration, which is why the Marlins are shopping him. Marcel Ozuna would by far be my top target to pair J.D. Martinez with, assuming we sign him. There were multiple reports that the Red Sox were willing to trade Jackie Bradley Jr., so I would offer him as the centerpiece of the trade. Based on what the Marlins got for Stanton, that might be the only known name we would have to give up. However, there seem to be lots of teams interested in Ozuna, so I would offer 3B prospect Michael Chavis if needed. Chavis is one of only two big names left in our farm system (Jay Groome is the other), but he is blocked by Rafael Devers, who appears to be a rising star. If the Red Sox traded Bradley, we could move Benintendi to CF, and keep Ozuna in LF. Now remember, in this scenario we are assuming Martinez signs as well, so in that case J.D. would DH and Hanley would slide back into first base, where he produced the most in a Sox uniform. Out of all possible scenarios that could play out in the next coming days, this would by far be my favorite.
Scott Neville – WTF Sports