I hate Giancarlo Stanton, I think.
Giancarlo Stanton is about to ruin every Red Sox fans offseason. He is about to make me want to punch a damn wall. There are sources stating that Giancarlo to the New York Yankees is almost a done deal. Every single part of me hates this and doesn't want to be a fan of baseball for a day. This one will hurt. Why? Because at the beginning of the offseason, and for most of the postseason even, Giancarlo to Boston seemed liked a legitimate possibility. Even a few weeks ago I gave my thoughts on where Stanton may go, and felt Boston made so much sense that it'd be almost impossible for it not to happen. But also in that, I said that the Yankees aren't out of this like everyone thought they were. Take a look: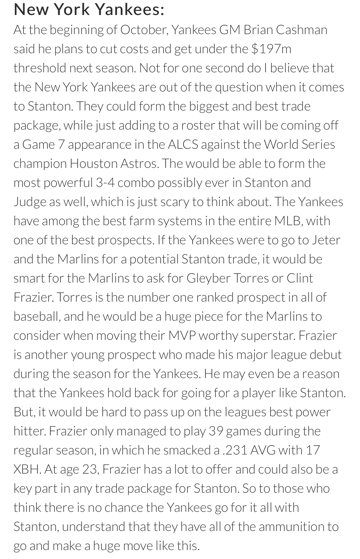 And what is putting even more salt in now the huge wound is the fact that the Red Sox supposedly were not even that interested:
Stupid, just plain stupid. Yo Dealin' Dave, you are about to lose that nickname, because you are passing up the opportunity of getting the REIGNING, DEFENDING, 2017 NATIONAL LEAGUE MVP. How are you somehow not interested in that. What you need this offseason is Power. You need power. POWER. Oh, so let's not be interested in a guy who would hit 60 bombs in Fenway alone, but let's hope to waste money on a certain outfield answer who has power in free agency. Like if your plan is to sign Bryce Harper next offseason or something, I guess we can be friends again, but until then, you have a lot of explaining to do. You started it off so well, so awesome. Signing the stud Alex Cora as your next manager. But now you may just blow it. And sure, it was not definite you could have got Stanton, but dammit, at least give it a shot. Now you're letting the rival of the biggest rivalry in sports get him and team him up with Aaron Judge: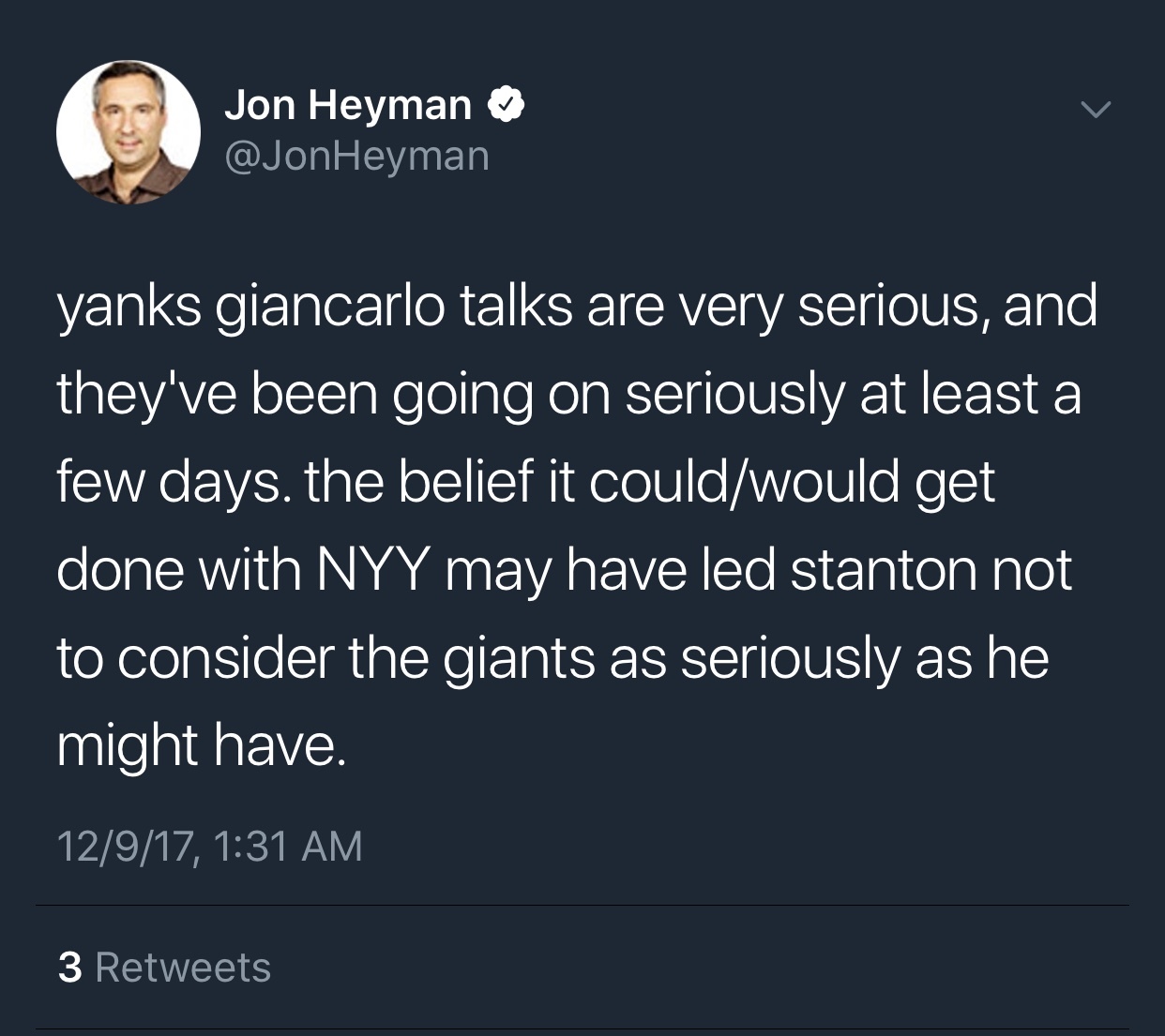 I'm not mad Dave, actually I am. But I am more so disappointed. Sure, I know you have got us Chris Sale and David Price, but you know what you didn't do? You never replaced David Ortiz. You went into the season replacing the idea with thinking Hanley could match those insane numbers, and Mitch Moreland could also help the gap. Well weren't you wrong pal. And now you had a chance to write the wrong, go for the absolute best hitter on the market! And what happens? YOU'RE NOT EVEN INTERESTED. Disappointment is probably and understatement, but I am trying to be respectful Dave. Just wake up Dave. WAKE. UP.
I hate this. It is unfair, not even a little fair actually. Can't wait until Sale strikes them both out 150 times next season.
Okay, now let me get away from the Red Sox bias for two seconds. If we think about it, it is probably great for baseball to have Giancarlo Stanton and Aaron Judge join forces on the biggest team in the sport, especially after the biggest foreign signee, Shohei Otani, since Ichiro went to the smaller market Los Angeles Angels of Anaheim in the past 24 hours. I probably am wrong to compare Kevin Durant and Giancarlo Stanton, because it is completely different situations, but the amount of hate that will grow for a once loved player inside of me will probably match my feelings for Durant soon enough. I hope talks fail and Stanton literally goes anywhere else, I don't even care if he goes to the Astros. But the problem here is the New York Yankees. They would just steal another player from the Red Sox that the Red Sox faithful have felt to be theirs (ex. Alex Rodriguez, Mark Teixeira) (also, love ARod, imagine if he wore a Red Sox uniform, a real dream). Yeah, I know, the bias thing didn't last too long. All I want is to wake up and see anything besides "BREAKING – Giancarlo Stanton acquired by the New York Yankees". That is all I want, but we don't always get what we want, right Dave?
Alright, I'm done going on, I hope you have enjoyed my piece on the Giancarlo Stanton/ New York Yankees situation, and I am sure to wake up and have to go all in again.
But until then, please enjoy and share this post.
-Scott Edwards, The Creator of WTF Sports