This past Saturday, UFC 218 took place from Detroit, Michigan, where the Main Event brought us Featherweight Champion Max Holloway (18-3) taking on former dominant champion, Jose Aldo (26-3). The Co-Main Event was a heavyweight slugfest between seasoned vet Alistair Overeem (43-15-0) and highly touted up and comer, "The Predator" Francis Ngannou (10-1-0). And before I jump into both of these, let me discuss quite possibly the fight of the night.
Bout – Eddie Alvarez (28-5-0, 1 NC) vs Justin Gaethje (18-0-0)
Former UFC Lightweight Champion Eddie Alvarez (28-5-0, 1 NC) took on the undefeated Justin Gaethje (18-0-0) in a fight that will be remembered for a long time. Alvarez and Gaethje took home the fight of the night, in a battle won by Alvarez (29-5-0, 1 NC). This was back and forth between the first two rounds, but in the third, the former champion went for the kill against the undefeated young gun, winning by KO/TKO with 1:23 left in the final round. Alvarez was able to land 40 significant strikes in the third round, which involved the final blow that brought Gaethje down, a knee to the face knocking Gaethje out. Alvarez admitted after the fight that he felt if it was a five round fight, and he didn't end it there, he would have been in trouble with the amount of damage delivered to his leg and the fact that his leg was blown up like a damn balloon. My opinion of this fight was simple, it was two badass dudes going in there and putting on a show. Alvarez is one of the best to just go in there and give it his all, while Gaethje is just getting started and will be a contender if he learns to bounce back from a loss.
RESULT: Alvarez (29-5-0, 1 NC) over Gaethje (18-1-0) by Third Round KO (R3 1:23)
Main Event
Bout – Max Holloway (C) (18-3-0) vs Jose Aldo (26-4-0)
I am actually going to skip ahead to the Main Event here, as I have lots of praise for the heavyweight battle. However, the main event was something to remember as well. Holloway and Aldo had their second fight in a row, and it was one to remember once again. At UFC 212, Holloway went in as the underdog, even though he was a interim champion. Well after this fight, any doubts in Max Holloway as a fighter was long gone. He was able to not only win, but for the most part dominate one of the best to ever do it, Jose Aldo. Now let me say, Aldo hasn't been the same since he was knocked out by my guy Conor McGregor, but he had bounced back at UFC 200 with a interim title win over Frankie Edgar, who Aldo was replacing in this fight. So Holloway caught Aldo multiple times, including the final flurry of dominance by Holloway, leading to the TKO victory. The best of Jose Aldo has officially come to a close, and as we thank him for his former dominance, we look to the future dominance of Max Holloway, who has simply become a new star in the sport of MMA.
RESULT: Holloway (C) (19-3-0) over Aldo (26-4-0) by Third Round TKO (R3 0:09)
Co-Main Event
Bout – Alistair Overeem (43-16-0, 1 NC) vs Francis Ngannou (10-1-0)
This was absolutely everything I was hoping for. The Co-Main Event had Alistair Overeem (43-15-0, 1 NC) taking on Francis Ngannou (10-1-0) in one of the bigger heavyweight battles in a while. This was essentially to decide the number one contender for Stipe Miocic's UFC Heavyweight Title. This would be Ngannou's toughest fight yet, and simply put, he wasn't even worried. This one lasted one round. ONE ROUND. Not even a full two minutes actually. Let me just say, my dude Ngannou is a freak of nature. This man brings so much power and explosiveness that not many others possess. Ngannou ended this fight with a huge uppercut to Overeem, getting the KO instantly. The first time I ever saw Ngannou, I had a good feeling about him. He has everything that the heavyweight division needs. He now becomes the unquestioned number one contender for Stipe Miocic. I wish I could talk about this one more, but it was just two minutes of pure domination of a seasoned veteran.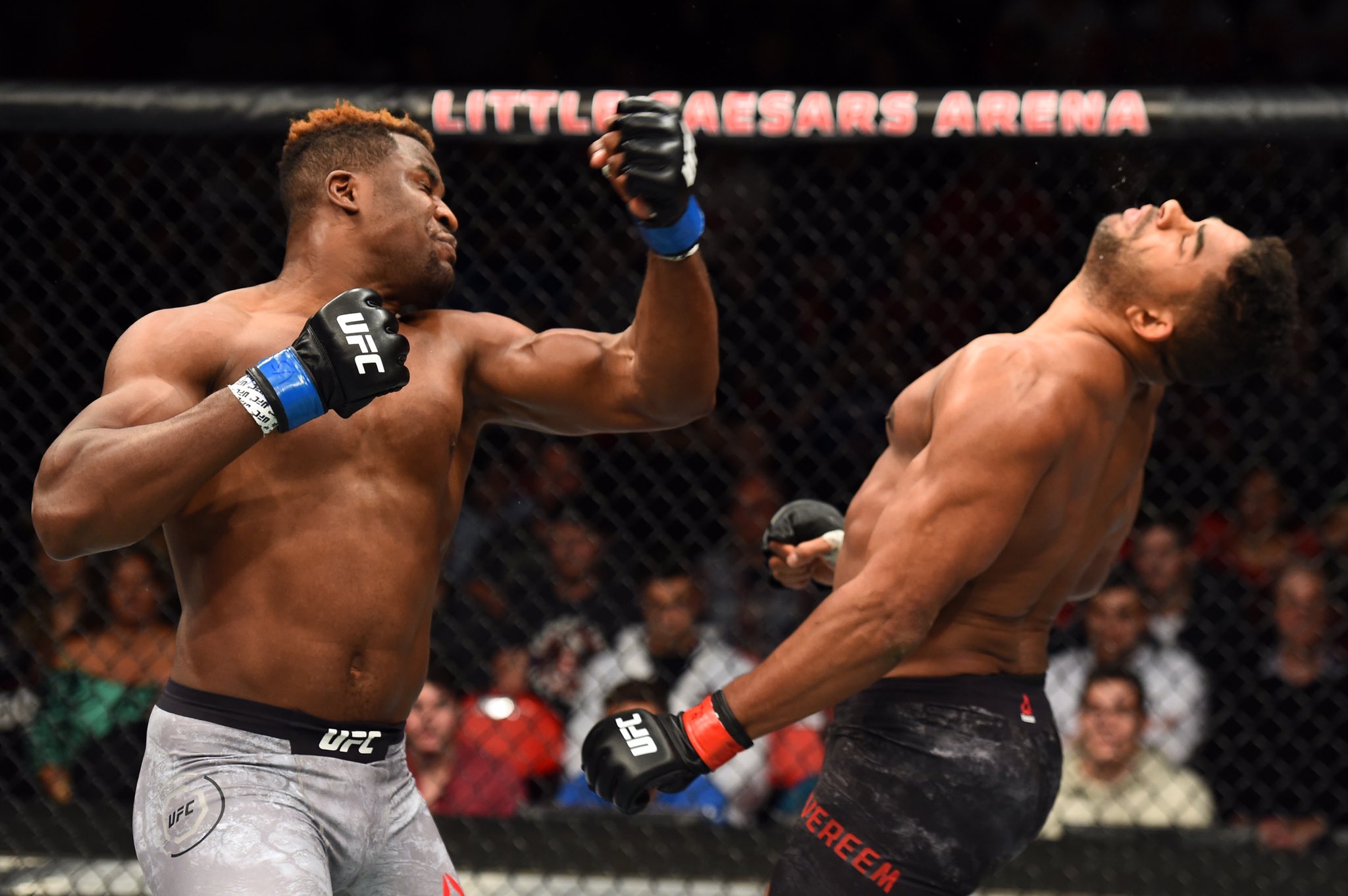 RESULT: Ngannou (11-1-0) over Overeem (43-16-0, 1 NC) by First Round KO (R1 3:17)
So, I titled this Super Fight Galore, because of the news that followed UFC 218. There has been a lot of chatter to have two super fights coming from this super event. First, is Stipe vs Ngannou. This one is almost set, as there were reports last night via Ariel Helwani that Stipe vs Ngannou for the UFC Heavyweight Title is almost confirmed for UFC 220 in Boston on January 20th. This would be the second fight on this card, joining Daniel Cormier vs Volkan Oezdemir. This would stack the top two fights for Boston, with hopefully more to follow. This would be the biggest heavyweight fight in the UFC in years, and we may be lucky enough to get it soon enough.
The other Super Fight is a bit tougher to get. Many are calling for the super fight between UFC Featherweight Champion Max Holloway and UFC Lightweight Champion, "The Notorious" Conor McGregor. The trickiest part of this is the part of McGregor coming back to the UFC to even fight. McGregor never needs to fight again, if he was fighting for money. After his super fight with Floyd Mayweather, he sits here with $100 Million in his back pocket. But if he was to come back, he is only going to want the biggest fight possible. McGregor has not defended his championship ever, which is hysterical, and he would only come back to make history. McGregor vs Holloway would have so much entertainment, so much lead up, and ultimately be a great fight, which matters most. This would be their second fight, but it would be much different, as both have become much more experienced and polished fighters.
So that is it, the second edition of Knockout Empire is wrapped up, and it leaves us with hope, curiousness, and excitement for the present and future.
Please feel free to enjoy and share as always!
-Scott Edwards, The Creator of WTF Sports Nation