Tampa Bay Lightning – Meeting the Potential
The Tampa Bay Lightning have come out guns ablazing with the best record in the league. At 17-6-2 (36 points), the Lightning have the best record, and it is due to the potential of all their players coming into fruition. From great coaching by Jon Cooper, management of Steve Yzerman, and the all-around play from the young, talented Lightning roster. This team can look to its stars and also team play that they have developed and shown throughout the season. What is helping them most, is the play out of their top wingers, defenseman, and goalies.
Steven Stamkos, the franchise player, is finally healthy again, and now leads the entire NHL in points and assists. Stamkos has forever been looked at as a superstar, and if he is able to stay healthy all season long, he will put together his best campaign ever. Stamkos, so far this season, has produced 37 points in just 25 games, with a league leading 26 assists for his Lightning team. While this may come as shocking, since Stamkos is known to be a complete all-around shooter, he is able to find his teammates, and it is making his team better in the process. Stamkos' highest production in a season has been 95 points, which happened in his second season of 09-10. That season, he led the league in goals with 51. So clearly this season, he is worried more about getting his teammates the open shot, rather than himself, but we do know that he can rip it when he wants, leading the NHL in Powerplay goals with 8. As a former first overall pick, Stamkos has always been a player that people could see doing this, and the only thing that has held him back from that was freak injuries that derailed his season. Now healthy, he gets to team with another superstar, who has really come into his own throughout the past few seasons.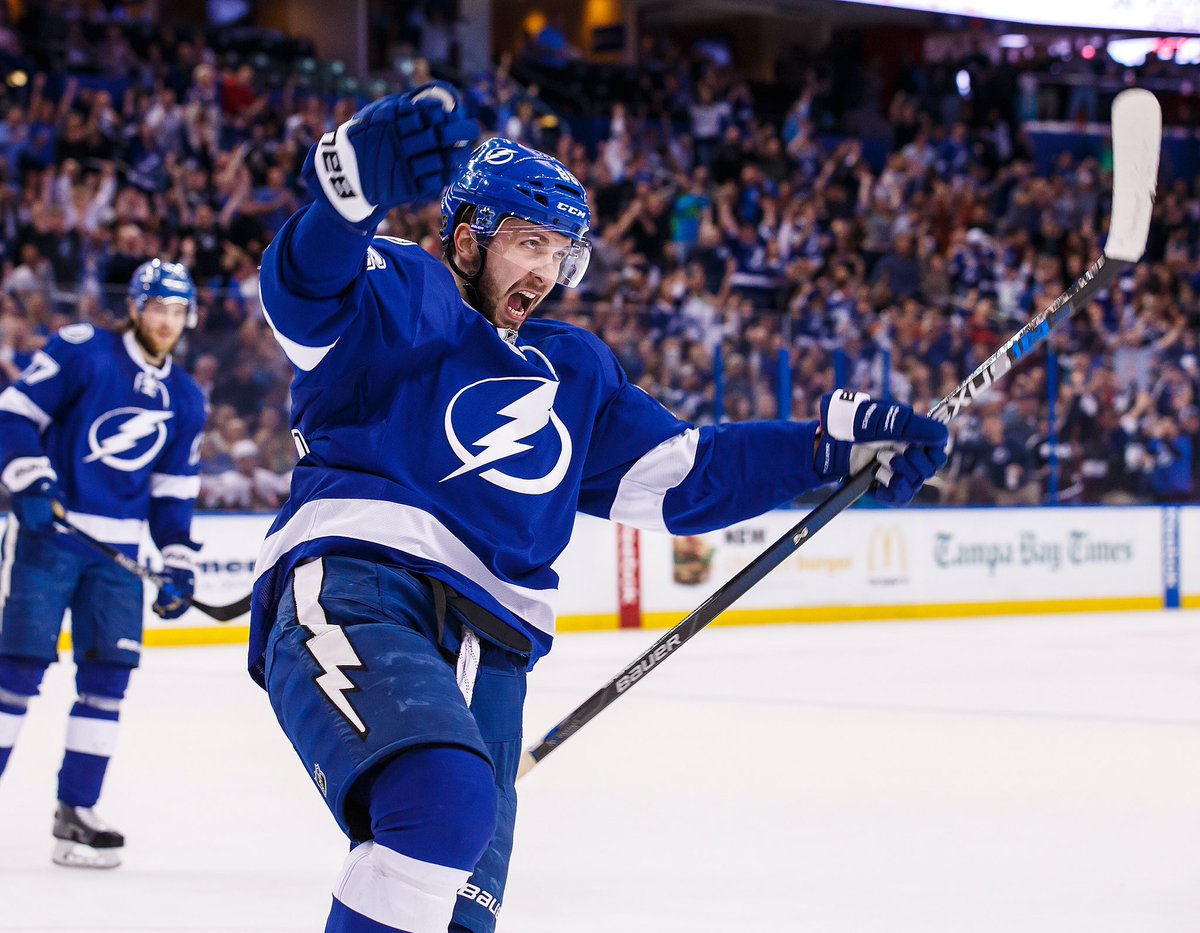 Nikita Kucherov is a name that more and more fans hear every season. The Russian born winger has quietly become one of the best players in all of hockey, and this is without Stamkos being healthy for most of it. Kucherov had his break out season a year ago, as in his age 23 season, he scored 40 goals and had 45 assists, resulting in a whopping career high 85 points. Kucherov is able to display great vision, good composure, and an ability to dazzle with a flurry of moves and absolute devastating shots. Now that and he Stamkos are finally both able to be on the same line together, they are both on track to lead the league as the number one and two scorers in the league, but also be the best duo in all of the NHL. Kucherov this season has the second most goals in the entire NHL with 17, while being number two in total points, behind his teammate, with 36 total. It seems that when Kucherov scores, Stamkos is usually the source. These two have been dynamic, and are the main force behind the incredible first quarter surge of the Lightning.
Other wingers such as Vladislav Namestnikov and Brayden Point been great surprises and complementary players to the two superstars that the Lightning possess. Namestnikov, 25, has never scored more than 35 points in a season. This year, he is on track to double that, as in 25 games, he has a total of 23 points, with 10 goals and 13 assists. Of course, his success comes from the fact that he is lined with Stamkos and Kucherov, by the is proving to be a successful complimentary piece to their line. Brayden Point finished 10th in the Calder Trophy voting last season, as he ended the season with 40 points on the season. Point, now centers the 2nd line of the Lightning with Ondrej Palat and Yanni Gourde, and so far has performed above expectations. Making a giant step it seems, Point has produced a total 21 points for his team, which is quite possibly even more than they expected from the second-year player.  This has led to both Palat and Gourde also having very good seasons, as they have 15 points each to add to the equation.
Not only has the offense of the Lightning been among the best in the league, but they are getting all-around play from the backend as well. This defense has been led for a few years now by star D Victor Hedman. Hedman continues to be a leader by example for the entire Lightning team, and especially the young D-Men. Hedman has 17 points for the Lightning, as he continues to be one of the best two-way defenseman in all of hockey, and also has a chance at the Norris trophy by seasons end. The real surprise of the Lightning season may be the excellent play out of 19 year old Mikhail Sergachev, who the Lightning acquired in the Jonathan Drouin trade with the Habs. In 25 games, Sergachev also has 17 points, matching top defenseman Victor Hedman, while also having a better +/- with 7, which is extremely promising for such a young player. Sergachev has been able to pair all season with veteran defenseman Anton Stralman, who is also having one of his best season, with a top five +/- in the entire NHL at a big 15. The entire defensive unit for the Lightning has become a strength to their roster, which has a mix of young guns and veterans like Dan Girardi and Brayden Coburn. Having a good mix has led them to promising heights that will continue throughout the season.
Last season, the Lightning made the move to trade starting goaltender Ben Bishop in favor of up and coming goalie Andrei Vasilevskiy. At the time people wondered if Vasilevskiy could lead a team and be a starting goaltender of the future, and oh boy did they nail it. Vasilevskiy is top 10 in the four main categories for a netminder. He is number six in Goals Against Average with a 2.23, third in Save Percentage at .932, tied for second in shutouts at 2, and leads the entire National Hockey League in Wins with 16. He has been everything the upper brass of the Lightning had hoped for and more, and will be in the Vezina Trophy discussion by seasons end.
This Tampa Bay Lightning team is special, and they look to be the team to try and knock off the back to back defending Stanley Cup Champions, the Pittsburgh Penguins. The NHL looks like a different landscape for the first time in a couple of years, and with a team like the Lightning possibly taking the helm, it will be all more exciting.
Thank you for giving this a read, please feel free to share, like, comment, anything of the sorts. We encourage all to enjoy.
– Scott Edwards, The Creator of WTF Sports