The NBA Preview
Predictions and Preview for the 2017-2018 Season
With a league full of Super Teams, some more than others, there really hasn't been a professional sports league feel automatically won from game one. Well, unfortunately, that's where the NBA stands for a second year in a row. The reigning, defending world champion Golden State Warriors remain the big dog of the league, standing at a 4/7 odds on favorite via VegasInsider.com. In this preview we will discuss who will come out on top in each division and what the playoffs will look like. As well as a Finals prediction and who I see winning MVP, ROY, Coach of the Year, and 6th Man of the Year. So… Here we go.
Notable offseason moves go all the way down to this final week. The offseason of mega moves leaves the league in a frenzy, with people wondering if Golden State can repeat. The Cavs, Celtics, Rockets, Thunder, Timberwolves, and Spurs all made big moves to get them closer to the Super Warriors. To begin with the Cavs, they were able to add All-Star PG Isaiah Thomas, former superstar SG Dwyane Wade, one-time MVP PG Derek Rose and complimentary forward SF Jae Crowder who had been a starter for Boston for the past four years. With these moves, Cleveland looks to meet Golden State for the 4th consecutive year. Joining them in an offseason of big moves is the Eastern Conference's Boston Celtics. The Celtics managed to add two stars and a star rookie to the fold. While they lost Crowder and Thomas, they were able to add PG Kyrie Irving who is looking to make the next step as he is already one of the most deadly offensive players in football. Joining him is SF Gordon Hayward, who was an All-Star in a stacked Western Conference last season. Celtics were able to draft F Jayson Tatum also with the third pick, and many saying he may be the most successful player to come from the draft.
The Western Conference went from being the more competitive conference to what people say is pretty much the entire league of competitiveness. The Houston Rockets, who finished 3rd in the West last season, added Chris Paul to a front court already containing MVP runner-up, James Harden. The Oklahoma City Thunder may be the most improved team of the offseason, adding All-Star forwards Paul George and Carmelo Anthony. Gaining these two to put with last seasons MVP Russell Westbrook gives the Thunder a real chance to dethrone there former franchise player, Kevin Durant, and the Golden State Warriors. The young gun Timberwolves, who already consist of young stars like Karl Anthony-Towns and Andrew Wiggins were able to add three new starters to there team. These three consist of an All-Star starter from last year in G/F Jimmy Butler, PG Jeff Teague, and PF Taj Gibson. This could bring a real leap forward for this young team as it seems they may be serious to contend. The Spurs, who very well could have beaten the Warriors last year had superstar F Kawhi Leonard hadn't gotten hurt, were able to add F Rudy Gay to the squad. This, giving them a great chance to contend as always.
There are two conferences in the NBA, with three divisions in each. The Western Conference however, is stacked. It feels as if all the moves in the offseason affected the Western Conference Teams more than the East. The Eastern Conference is looking like a two team race between the Boston Celtics and Cleveland Cavaliers, while the superstars that were once in the East head over the Western Conference to do one thing, and that is dethrone the Golden State Warriors.
Teams that I feel can surprise this league coming is the Milwaukee Bucks, Philadelphia 76ers, Denver Nuggets, and New Orleans Pelicans. The Bucks are led by a player who I think has a serious shot at the MVP this year in Giannis Antetokounmpo. This team is developing and will have one of the more entertaining rosters in the league. The 76ers are just going to be a fun team. People will finally see #TrustTheProcess in full force. Joel Embiid will be back and fully healthy, with the 2016 and 2017 first overall picks joining him. Ben Simmons and Markelle Fultz will add to the already young lineup, as we get to see this team mesh together and become a future star-studded team. The Denver Nuggets are another up and coming team, except they added an All Star in Paul Millsap to a team with up and comer Nikola Jokic and other young stars. My last underdog team to make a big splash in this upcoming season is The New Orleans Pelicans. These Pelicans seem to be a team that no one remembers. They have a front court that no one can match. Superstars Anthony Davis and DeMarcus Cousins look to try and find even more rhythm in there first full year together. The front office was able to retain Jrue Holliday, while also adding prolific PG Rajon Rondo and defensive magician SG Tony Allen. This is a team that will look to make a mark this season.
So, as I have discussed all these possible playoff teams, I will move into my discussion for award winners.
First off, 6th Man of the Year.
Prediction: F Rudy Gay, San Antonio Spurs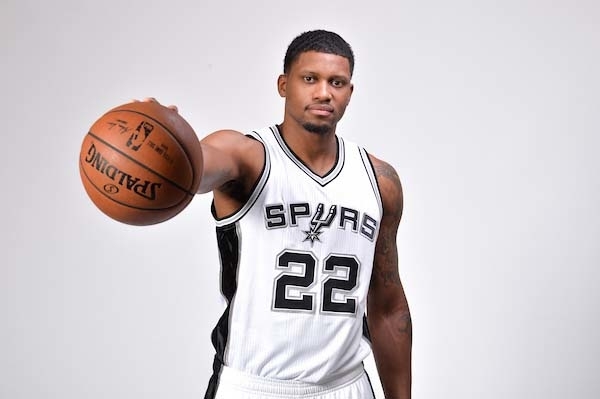 Last season, sharpshooter and 3pt contest winner SG Eric Gordon took home the crown for the Houston Rockets while averaging 16.2 points off the bench. He was a true sparkplug for the Rockets, and is in real contention again this year to regain the honor. But let's not be boring, let's look at the flat out best player to be on a bench this season besides Eric Gordon. A career average of 18.4 pts per game along with 5.9 reb, Rudy Gay has been a machine while healthy for any team he has played for. Now playing on the best team of his career in the San Antonio Spurs, if he is able to play a healthy season, Rudy Gay has a real chance at being a true game changer for the Spurs. Having all the offensive talent in the world, being able to drive and score who pull from three point range, Rudy Gay has a real chance at capturing this coveted 6th man Award.
Runner-up – Eric Gordon, Houston Rockets
Coach of the Year:
Prediction: Head Coach Brad Stevens, Boston Celtics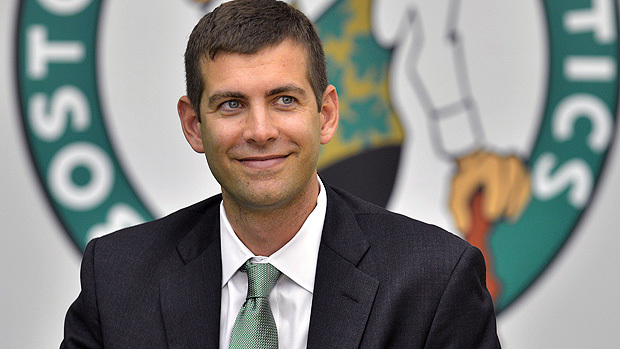 Brad Stevens is believed by many one of the best coaches in all of Basketball. He is the reason it seems that more and more every year, free agents consider Boston. Let's just put it out there now, if the Celtics coach wasn't Brad Stevens, they may still be rebuilding, IT never becomes what he had for that team, and Gordon Hayward never joins the Celtics this offseason. Many have thought that Stevens could have earned it the past several years, it seems that the Celtics are positioned better than ever to get to the NBA Finals and allow Stevens to show all of his coaching abilities. He has a top ball handler in Kyrie Irving, while also having another star in Hayward to help Irving produce points for this team. If there was a year that Stevens was to run with this award, it would be this one.
Runner-up – Greg Popovich, San Antonio Spurs (Duh)
Defensive Player of the Year
Prediction: C Rudy Gobert, Utah Jazz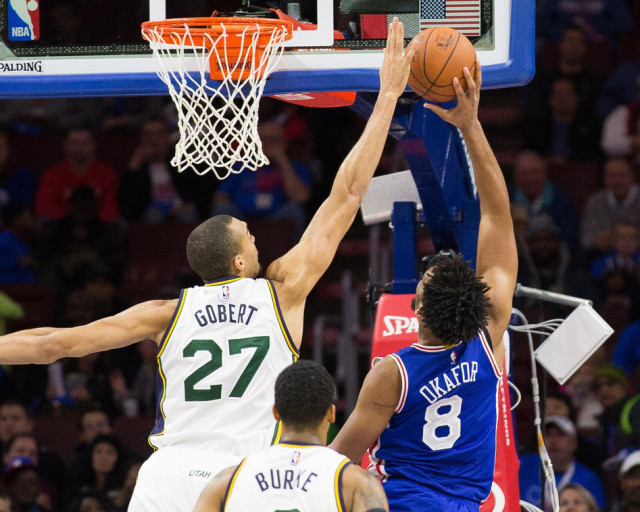 Last season, Rudy Gobert placed second in the 2016-2017 Defensive Player of the Year voting to Draymond Green. He has a legitimate gripe to work and earn this award after last year he averaged a league high 2.6 blocks per game as well as top five in rebounds with an average of 12.8. Gobert now will be the centerpiece of the Jazz team with Gordon Hayward moving on to Boston. Gobert will be the face of the franchise moving forward, meaning he is only going to elevate his game to the next level. With the length and height that Gobert possesses, he should be a automatic finalist for the DPOY every year.
Runner-up: SF Kawhi Leonard
Rookie of the Year:
Prediction: PG Lonzo Ball, Los Angeles Lakers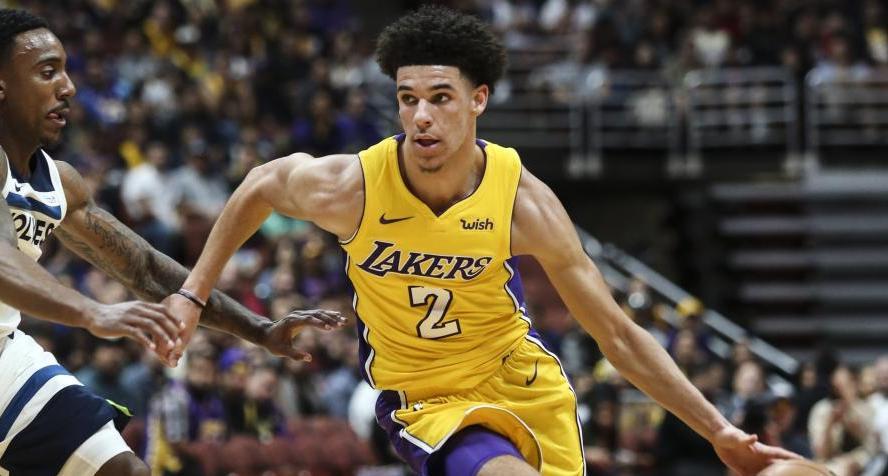 No rookie is going to be given the keys to success more than PG Lonzo Ball. Ball comes with a lot surrounding him, from his father Lavar, to being apart of a show deal with a completely different brand so that every time he does where Big Baller Brand, it'll be news. But one thing people cannot say about Lonzo is the fact that this man can flat out ball. He has already displayed his skill on a bigger stage, taking in the NBA Summer League MVP award and Summer League Championship. Ball has everything you want in a top point guard and draft pick, size, a leadership attribute, and jump shot that is nothing but net. Ball will be able to move the ball in so many ways as he has the passing ability unlike any other. He can find windows that young players like him usually cannot, while also being able to score when they need it most. Lonzo Ball will be the reason that the Los Angeles Lakers rise back into stardom, and it begins this year, with the Rookie of the Year award.
Runner-up – Dennis Smith Jr., Dallas Mavericks
And the biggest individual award…
Most Valuable Player:
Prediction: SF Kawhi Leonard, San Antonio Spurs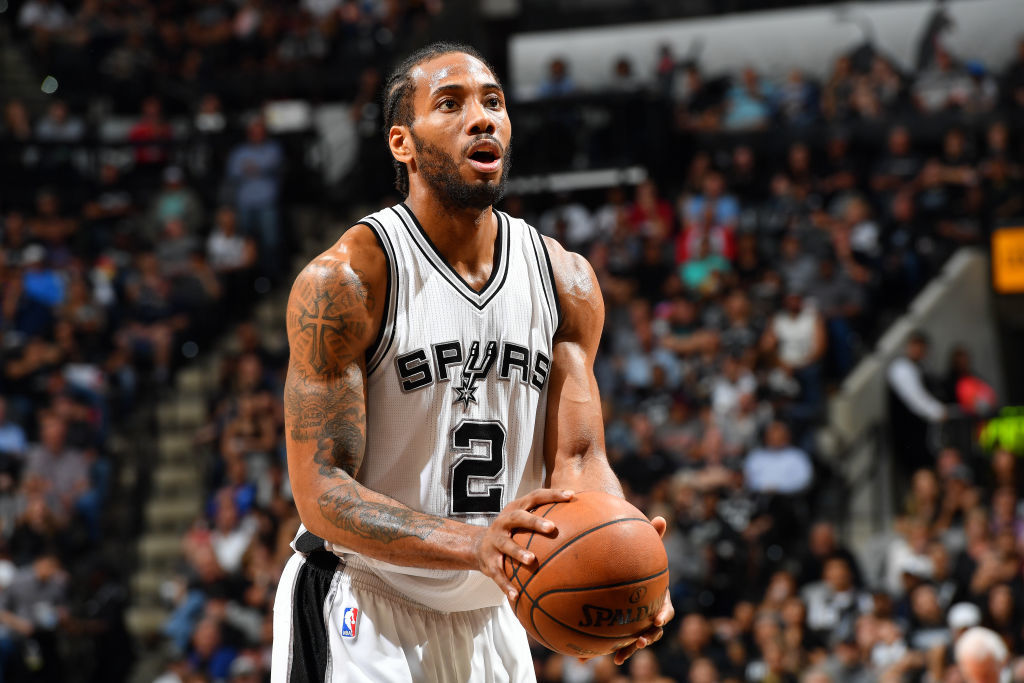 The best defensive player in all of basketball placed in third place last year for the MVP award just behind Russell Westbrook and James Harden, respectively. Kawhi Leonard has become a bona fide superstar under Pop, being able to take the torch from Tim Duncan and being the new leader of the Spurs. Last season was Kawhi's best, averaging a career high 25.5 PTS, 5.8 REB, and 1.8 STL. He is the only player that anyone can say locks down Lebron James and Kevin Durant every time they're matched up. Leonard, if healthy, may have even been able to lead the Spurs past the Warriors in the Western Conference Finals. Now, as Leonard turns 26 and begins to enter his true prime, expect pure domination and a career year. While there are so many player in this league that have a legitimate chance at winning this honor, this is Kawhi Leonard's year to be recognized as the MVP.
Runner-up: Kyrie Irving, Boston Celtics
I have gone through everything besides the playoff predictions, so here they are.
Eastern Conference Standings
Cleveland Cavaliers
Boston Celtics
Toronto Raptors
Milwaukee Bucks
Washington Wizards
Miami Heat
Philadelphia 76ers
Charlotte Hornets
Western Conference Standings
Golden State Warriors
San Antonio Spurs
Oklahoma City Thunder
Houston Rockets
Minnesota Timberwolves
LA Clippers
New Orleans Pelicans
Utah Jazz
Eastern Conference Finals
Boston Celtics vs Cleveland Cavaliers
Celtics win series 4-2
Why: In a two team Eastern Conference, the Celtics and Cavaliers will battle to the very top of the conference all season long, with back and forth movement within the rankings. However, the Cavaliers will be able to win more games and get home court throughout the playoffs. Once they meet in the playoffs, which would be a rematch of last years Eastern Conference Finals, the Celtics will get the edge. There will be some tension in that Cleveland locker room all season, as many know that Lebron may very well be on his way out. IT may not be 100% from this hip that has hindered him all offseason. Kyrie Irving seems determined to beat his former team and Lebron James. This will be the season Kyrie makes that leap and is averaging over 30 PTS, quite possibly lead the league. And when Kyrie is off, which happens very little, Hayward and company will be there to produce as well. The 4-2 series will occur as Boston will own their games at home, and steal one when in Believeland.
Western Conference Finals
San Antonio Spurs vs Golden State Warriors
Spurs win series 4-3
Why: In what may will consider an upset, we see another rematch from a year ago. But the Spurs have the personnel to win and beat the stacked Warriors. They have a spectacular bench along with there mega compact lineup. Kawhi Leonard will have made the step, and lead his team to the Finals. The Warriors will crumble when they compete against the best defensive team they have seen. The 4-3 result comes as both team win their respectable games at home until Game 7 where Kawhi and company shut up the Golden State faithful with a big Game 7 win to meet the Celtics in the NBA Finals.
The Finals
Boston Celtics vs San Antonio Spurs
Spurs win series 4-2
Why: Simple, the Spurs took the best horse out of the race in Golden State, and while the Celtics make a big step, they are just a year off from complete greatness. The Spurs will have the better overall team and reigning MVP in their corner. They will be too much defensively for the Celtics to win the battle against. In a series where the real shockers came in the respective conferences finals, these teams will be happy to be on the main stage and end the reoccurring Cavs-Warriors Final series. With this result, Greg Popovich may be able to drift off into the sunset as a champion, and the Celtics will be left hungrier than ever before. Leonard will take home the Finals MVP and the San Antonio Spurs will be recognized as the NBA Champions once again.
Thank you for joining me in what I see happening this season in the NBA, please feel free to comment a share your opinion by emailing us at wtfsportsnation@gmail.com
– Scott Edwards, Creator of WTF Sports